If you like the idea of living in a smaller home, but under 200 square feet seems unreasonable and you aren't into climbing a ladder to a lofted sleeping area, then consider this beautiful example of an RV/park model home, made by Escape Homes out of Wisconsin. This little cabin brings true craftsmanship to the table, with a design inspired by Frank Lloyd Wright. It's technically a modular home, built on a wheeled chassis, and can be transported anywhere you need. Of course, at 14′ wide it's not something you'd be able to transport yourself. Because of the small size and the RV features this home avoids taxes and property restrictions that typical homes might incur.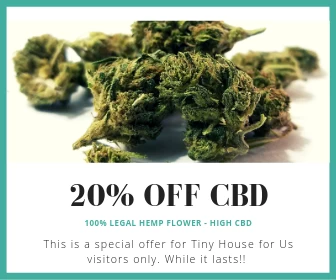 While the outside may look simple, the well-appointed interior will leave you stunned.
Vaulted ceilings add to the sense of space inside, and I love the recessed area in the wall meant to hold a flatscreen television.
The porch makes for quite a nice place to relax and soak in the natural surroundings. The bed shown here has heated coils and I can imagine it would be quite a beautiful spot to rest during a rain or snow storm. With the large overhang on all sides, there's no worry about the inclement weather making its way inside.
A well thought out floor plan shows attention to detail and a lot of usable space.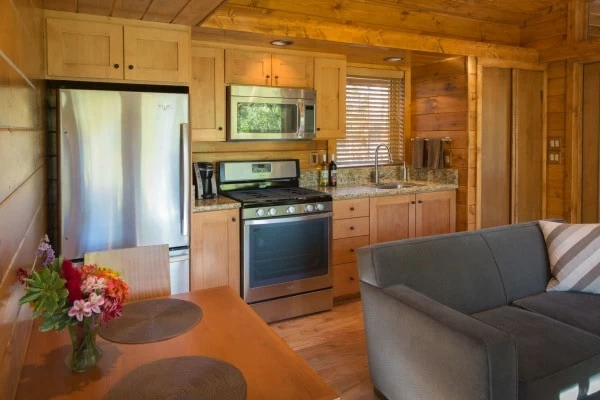 "ESCAPE is authentic, hand-made American craftsmanship. Installing ESCAPE is a breeze: just plug in utilities and it's done. ESCAPE is designed so people can simply ESCAPE to a cleaner, healthier, energy efficient and mortgage free lifestyle."
From the outside it appears to be a straightforward design, and at 28′ x 14′ it comes in at just under 400 square feet.
A full size bathroom adds to the utility of this tiny home. An open layout in the living area includes a well-appointed kitchen with stainless appliances, recessed lighting, and other nice features like a fold-out kitchen table. The company offers several variations of this home, including a two-bedroom version and another that uses a loft sleeping area to maximize space.
Pricing for this home begins at $57k and can rise up to $130k or more depending on the options you choose. For example, you can choose the type of wood stain, wood floors with optional heating underneath, and a stackable washer/dryer. While it's not cheap, but certainly not expensive in the grand scheme of things. Check out the company website to learn more about this home, or visit Canoe Bay if you're interested in renting this model for a night to experience it firsthand.