SignaTour Campers of Tampa, Florida, has been making well-regarded teardrop micro-campers since 2011. This year they built their first tiny house on wheels, a comparatively enormous 255-square-foot pastel blue beach cottage on a 24-foot trailer. You won't be towing this one behind a motorcycle (as you can with SignaTour's 7-foot, 600-pound Daytona model), but if you've got a larger vehicle and $42,500 to spend you could be towing it away – the listing's here. It's fully finished and fitted out with accessories including a two-burner cooktop, a 9.9 cubic foot refrigerator/freezer unit, a 9,000 BTU mini split air conditioner/heater, an Eccotemp L10 water heater, and an RV-style flush toilet.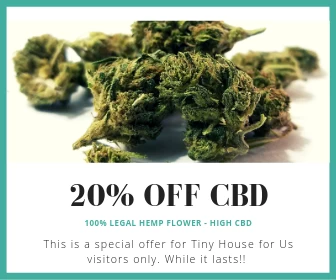 Photos via Signa Tour Campers | h/t Tiny House Swoon
That lovely blue has been applied over LP SmartSide engineered wood panel siding guaranteed to last 50 years, and the metal roof and full insulation in the ceiling, walls and floor will also do their bit in keeping out the elements. The double-paned, low-E windows are similarly sturdy, coastal wind rated in fact. The interior has an open, high-ceilinged sitting area at the rear entry and everything else – the kitchen, bathroom and loft – in front. In combination with a particularly generous allotment of countertop and cabinet space that makes the kitchen area into a bit of a cave, but it's a cozy, functional cave from which you'd be happy to emerge with a well-cooked meal.