Extraordinary Structures indeed! The SaltBox from the Santa Fe company of that name is, visually and technically, one of the most original THOWs we've seen for quite a while. Built with technical assistance from the nearby Los Alamos National Laboratory (!), it features CNC-cut panels of 22-gauge steel mounted on a steel exoskeleton that also holds a layer of wool insulation within a SIGA wrap. The interior layout is also a bit out of the ordinary, with the kitchen and bathroom each taking one side of the front end. Yes, they're kind of skinny that way, but a 10-foot wide trailer seems to have been just enough to tip the balance from cramped to functional. It's also allowed for bookshelves, cabinets, and a queen-sized Murphy bed along the wall of the living room / master bedroom at the other end. Finish is a nice contemporary style, with light knotty pine walls and stainless steel accents above a darker floor of end-grain mesquite. The fully loaded unit shown here went for $82,500, but base price is just $50,000 – not half bad for such an intriguingly innovative mix of high-tech and hand-built.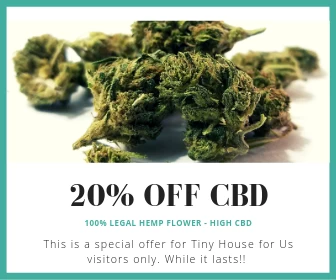 Shiny as it is just now, the SaltBox isn't stainless and will rust over time.
There is a small loft over the bathroom; it's lined with felt and looks like a great place to curl up with a book from the shelves below.
Thin as it is, the bathroom has space for a sink, a composting toilet, and a cedar ofuro tub.
With a big sink, a two-burner True Induction cook top, and a Fisher & Paykel drawer refrigerator all built into the counters, the kitchen also fits quite a lot into a little space.
Photos © Kate Russell Photography
h/t Tiny House Town