You might think they named it Lucy after their daughter, but that would be wrong. This lime green colored house belongs to New Zealand husband and wife Tom and Shaye, who became interested in do-it-yourself house building after reading a book on the subject. Once they thought of it, the idea of building their own home was a natural choice for them. Tom had always enjoyed hands-on work; Shaye had a talent for design and her parents had owned a construction company.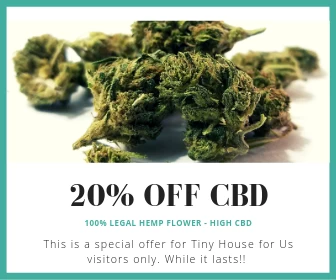 Nevertheless, neither of them had any practical building experience, so they thought it best to start with a few smaller projects before trying to make a house. The first of these was a cob pizza oven; that led to a larger cob structure, another pizza oven, and eventually to the 185-square-foot tiny house on wheels they completed in December 2013 and named Lucy.
As you can see above, there's a little nook carved out for Shaye's at home office, little more than a slim desk and a big screen Apple monitor, but it works. In fact, they make a lot of things work in the tiny space. The money Tom and Shaye spent yielded a comfortable, mortgage-free house with a seating for six in the living area, a sleeping loft accessible via a small staircase, a bathroom with a shower and composting toilet, a kitchen area with a large sink and gas range, and lots of storage space everywhere. It started out as a great place to live for the two of them, and with the arrival of their newest addition, a lovely girl named Hazel, they gracefully adapted it to serve the needs of a family of three.
The sectional couch has drawers underneath offering extra storage space, and the ottoman also unfolds to reveal a crucial bit more hiding space, both important features to have if you want to keep clutter-free in a small space like this.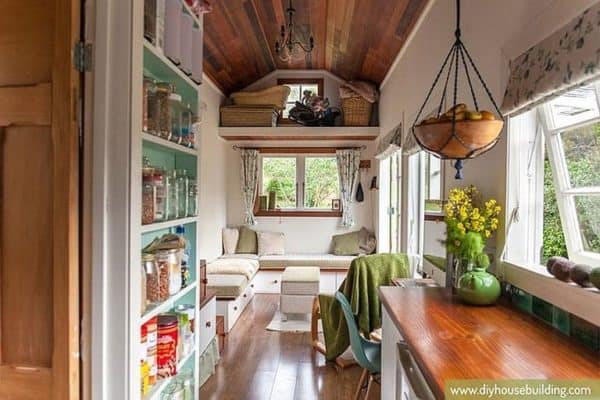 The most meaningful lesson Tom and Shaye have taken from these and other DIY projects is the importance of community to owner-built homes. They note that most such homes they've run across relied heavily on the help of community members to get them finished. Lucy was no different; the couple had help from friends and family and even many strangers who emailed to volunteer their time and expertise. The couple pays it forward by documenting their build and offering plans and advice for other future builders on their website.
They saw what was happening; their DIY house not only relied on the community to build it, became a community itself as it gained followers. Tom and Shaye saw immense value in that aspect of DIY construction and have since been trying to promote it on their website, DIY House Building. There they describe most of their projects, including Lucy, and maintain a blog page with a lot of practical tips on cob and tiny house construction.
Photographs courtesy DIY housebuilding
There's also a cost breakdown for Lucy that will make interesting reading for anyone contemplating a similar project. Total cost was about $21,000, and while prices for many items may be somewhat less in countries other than New Zealand, their detailed list will give you a fair idea of the major expenses and clue you in on a host of minor costs you may not have thought about.
Interested in plans for this home?
With all the work they put into building this house and the dedication they have to sharing their experience, it only made sense for them to release a set of building plans. Click here to check them out!