Much like an old speakeasy known only by word of mouth, the owner of this tiny house prefers it remain more or less hidden from scrutiny. That area with the teak floor and the folding chairs? That's a parking space, not a patio – or at least that's what Jérémie Buchholtz tells the city of Bordeaux. Maybe he parks one of those tiny European smart cars there, or just parks himself in a chair. Either way, we fully support folks who sidestep zoning regulations without getting into trouble.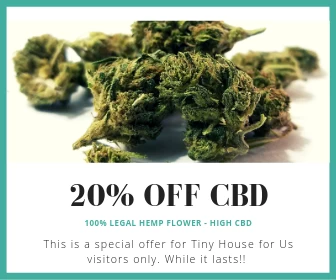 Here's what it looked like before the transformation.
And here's what it looks like today.
Buchholtz began looking for real estate in Bordeaux (his hometown) after being priced out of Paris, but he discovered couldn't find a conventional apartment within his budget. Then he came upon this dilapidated old garage in an alleyway, covered with rusty sheet metal on the outside and hosting a moldering junk heap on the inside. His friends thought he was crazy, insisting "there is no light, there is nothing" but today they're choking on those words.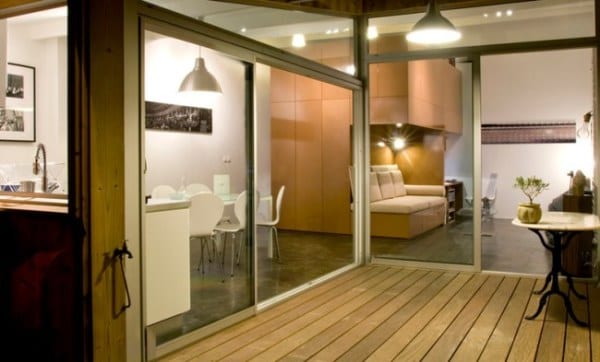 Despite his friends objecting and advising against investing the €80,000 ($94,000) in a structure they thought it was too dark and difficult to renovate, Buchholtz purchased it anyway. One friend, though, saw things differently: architect Matthieu de Marien, a name partner at Fabre/deMarien. It turned out that high property values in Bordeaux meant that Buchholtz wasn't alone in looking beyond traditional options, and de Marien actually had considerable experience in converting former commercial and industrial spaces into residences.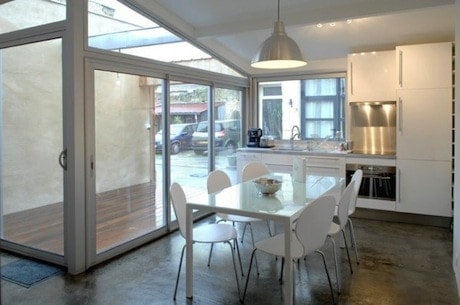 The first thing to go was the sheet metal, soon replaced by double-glazed glass and a massive sliding pine door. De Marien kept most of the interior space open to leave room for a spacious living area and a modern kitchen and dining table. Pretty much everything else is contained within a freestanding block in one corner. A sofa and workspace are visible from the rest of the room; behind are doors to a bathroom with shower and toilet, a closet/dressing room, and the stairs leading to the bed which is concealed on top of the structure.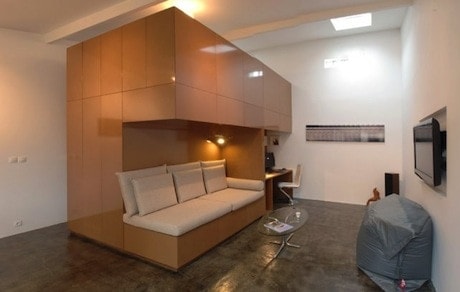 Video tour of the home
Construction costs totaled €140,000 ($165,000), even with Buchholtz doing some of the labor himself, but it still cost much less money than buying an apartment. And it made an old garage into a place you wouldn't dream of parking your car, no matter what the zoning inspector might tell you.