Portland Alternative Dwellings (PAD) designed the Sweet Pea for Gina Bramucci, a Portland native who spent much of her time overseas as an international aid worker. Gina's long absences meant that she didn't need a very large house, and her uncertainty about where she would end up militated against binding herself to a particular location. On the other hand, she wanted something that would actually feel like a home when she was there. Something that would strengthen her ties to her community without tying her down, in other words.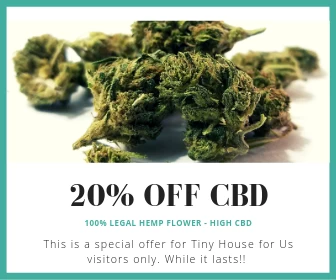 As her friends Joan Grimm and Rita Haberman pointed out, those factors made a tiny house on wheels a just about perfect choice for Gina. Coincidentally, the pair was in the process of setting up a tiny house village. They offered Gina a space on their land, and she in turned tapped PAD to handle the design work.
Although Gina was single at the time, her plans for the future definitely included children. Thus, the Sweet Pea has a number of kid-friendly features not found in most tiny houses, including a bathtub and a window seat that converts to a child bed.
With family in mind, Gina wanted her house to be as spacious as possible on a 16-foot trailer. PAD responded with a 136-square-foot plan that features a wide sitting area accessible via easy-entry double doors. There's also plenty of room for two adults in the loft sleeping area.
Below the loft are the kitchen area and bathroom, with the stove at the end, the kitchen sink and counter on one side, and the bathroom and some shelves on the other. That's a lot to fit into such a small space, and the kitchen looks more cramped than others we've seen; you wouldn't have a lot of room for cooking, and you'd have to hope nobody needed to use the bathroom while you were doing it!
Of course, you're free to modify the design if you want to build a Sweet Pea yourself. In fact, that's encouraged: the $99 plans don't include cabinets and plumbing to allow you to choose whatever works best for you.
As for Gina, she's been quite happy with the one she built, even though she hasn't been spending as much time in it as she expected. In part, that's because another prediction she made was right on: after becoming romantically involved with a Frenchman, she's now based in France – and she's expecting her first child.
Learn more about the Sweet Pea and purchase building plans here: http://padtinyhouses.com/books-plans/sweet-pea-tiny-house-plans/