One of our favorite parts about tiny houses is seeing the constantly evolving designs that appear, and the Greenmoxie is one example that will leave your mouth wide open in amazement. Greenmoxie the house started as a side project for the team at Greenmoxie the eco-conscious consumer blog, but the design and build by David Shephard and Ian Fotheringham ended up being so successful that they've decided to start taking orders.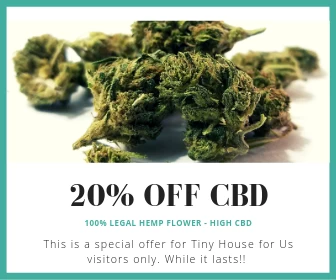 It's a relatively long tiny house on a 30-foot triple-axle trailer, timber framed with a black metal roof to go with its dark shou sugi ban siding. It has an unusual interrupted roofline that's only half roof, the other half being a 1kW set of solar photovoltaic panels. An electrically operated false end wall folds down to make a small deck at the rear. Inside, there's a long and spacious living room followed by a galley kitchen and a bathroom up front behind a reclaimed barn wood sliding door. The large windows interspersed along the walls among the bookshelves and storage stairs are also reclaimed, as is the ceiling; the floor is new oak. The walls themselves are Norbord oriented strand board, spray foam insulated to R22 (roof and floor insulation is R35).
True to Greenmoxie's roots, it's designed to be totally self-sustainable and off-grid. It carries two 30-pound propane tanks that feed the stove, the fridge, the water heater, and a Dickinson 9000 fireplace. A Little Cod woodstove provides supplementary heating. The solar panels charge 11kWh worth of Surrette batteries, and there's a 200-liter rainwater collection and filtration system, as well as a 200-liter grey water holding tank. The toilet is a Sun-Mar Excel composter.
The Greenmoxie guys seem a little apologetic about the price, $65,000 base (US, although they're in Ontario), saying "we blew our budget to smithereens." However, 65K is pretty squarely in the midrange for commercial THOWs these days, and considering the off-grid features, name brand appliances and electric porch, we'd say they've got no reason to be bashful price-wise – and plenty of reason to be proud design-wise.