The gentle charm of the Gypsy Mermaid bespeaks its origin in watercolor. That's the medium Rebekah Sofia used for her first concept sketches, drawing on no experience but that of building her own dollhouses as a little girl. Valuable experience nonetheless, as when she and her husband Robert began building the 26-foot house in 2015 they found there wasn't much they needed to change.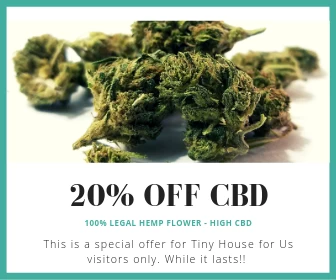 Construction-wise, they had a fair idea what they were doing. They'd remodeled their first home together, Rebekah had worked in interior design, and Robert had learned a thing or two growing up with his homebuilder father. Robert concentrated on the structural elements, the cabinetry, and the giant pizza oven (see photo below!); Rebekah handled many of the more decorative features like carving and paintwork.
Using reclaimed materials and doing everything but the spray foam insulation themselves, the couple spent only about $15,000 on the build. After working on it a couple of days a week for a year and a half, they're now getting ready to take it on the road. Supported by Robert's window washing business, they'll visit friends, stay at RV parks, and check out some of the tiny house villages popping up across the country. First up, though? A big yard sale to get rid of everything that won't fit inside!
The soft hues of artistically delineated cypress and sheet metal define the shabby chic exterior.
The salvaged French doors open onto a built-in couch in the central living area.
There's a bathroom behind, and a beautifully detailed home in front!
The wood-burning pizza oven is insulated with ceramic cloth to keep the outside cool.
Photos Ocala Style
h/t Tiny House Talk