If you were to judge this tiny house by its exterior, you might think it looks rather unremarkable, like a normal backyard shed perhaps. And you'd be right, at least until you step inside and find out it's really a "micromaison" with pure, rustic style throughout.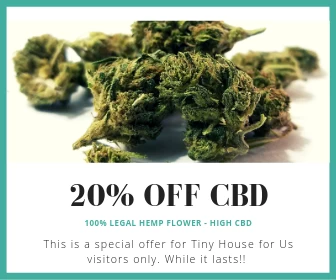 Located in Quebec, this is the creation of Habitations Micro, a new builder that's making their mark with this distinctive tiny house. Like other builders in the scene, they take an eco-friendly approach to their work, using sustainable materials, beautiful species of wood, solar power, and a composting toilet in the build. They aim to deliver an affordable house, and instead of applying fancy cladding and other ornate finishes on the outside, they bring the focus to the interior, where the actual living takes place. Makes sense.
Shown with a cozy layer of snow on its roof, the micromaison can withstand harsh east coast winters…
Aside from the solar panels and what looks like a passive solar heating unit, the exterior is rather simple and dignified, showing no hint of the space inside.
Step inside however, and you enter a new world! Is that a 5.1 channel surround system? And a bean bag chair? A teak table with folding chairs? Yes, Yes, Yes!
The extensive use of wood gives the home a warm vibe, and the bathroom feels almost like a sauna.
We love the extensive use of cedar and pine, and the exposed beams along the ceiling. Notice the folding ladder, which saves precious space.
An elegant round sink with plenty of counter space, and a subtle wood backsplash in the kitchen. Another huge speaker on the wall seems a bit overkill, but maybe they're audiophiles…
A rather interesting double loft seems like it might need a bit of refinement, some storage perhaps, and a way to prevent plummeting down to the first floor. A bed perhaps…
Of course with any home there will always be things you'd change. While we could make a few adjustments here, it looks, how do you say, "tres magnifique"? It seems like a great first model for production and we hope to see more from Habitations Microevolution in the future.
To learn more about their tiny house models and to purchase plans for your own visit http://www.habitationsmicro.com/