Mark and Lucretia Worster got some great advance publicity for their Hale Iki tiny rental house with an appearance on Tiny House Hunters. It's easy to see why HGTV picked their house for the show: not only is Hale Iki located in a fern-filled Hawaiian rainforest just a few miles from an active volcano, it also boasts relaxed but indisputably luxurious tropical styling, a huge lanai to complement its 240 square feet of interior area, and conveniences and comforts like a chiminea fireplace and a gas grill. Despite being completely off-grid, Hale Iki also has a big refrigerator (solar) and a flush toilet (water catchment).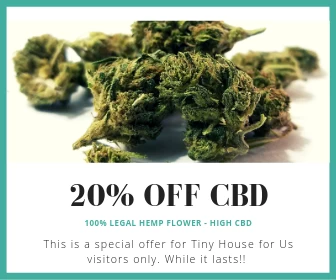 The kitchen includes a full-size gas oven and a sink, albeit not a whole lot of counter space.
The fridge is conveniently located just across the bathroom door.
The bathroom itself is quite small, holding just a shower stall and the aforementioned toilet, but it's nicely finished in grey tile.
The bed at the other end of the house is a comfortable queen size surrounded by windows that let in the morning light and look out on a jungle of ferns and ohia trees.
And staying here costs less than you'd think – at least for now. Mark and Lucretia are currently offering an introductory rate of just $115 per night, and they accept single-night and last-minute bookings too. You can make a reservation directly or on Airbnb or VRBO.