Many of us you these hand-built tiny homes and think to yourself, "I can barely hang a picture or put together an IKEA shelf. No way I could build my own home," and you'd be selling yourself short. Before he built this tiny house on Maury Island, Washington, Scott Yoder hadn't attempted to make anything more complicated than a toolbox. He never even finished that project, but looking at the result of his efforts we're assuming that's because he wanted to do something a bit more challenging. Scott took his inspiration from the Tumbleweed Tiny House Company's discontinued Tarleton model, and has since moved into the dwelling he calls the Point Robinson Cabin. The well-insulated home contains a marine cook stove, gravity feed water system, and composting toilet; planned upgrades include additional water collection capacity, solar panels, and a solid fuel heater.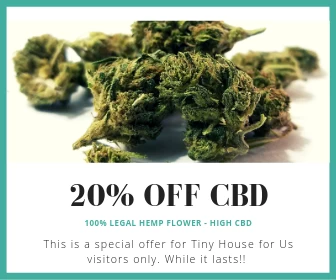 Can you imagine a more beautiful setting? Spring flowers blooming, warm forest air flowing through your tiny house. You can feel the freedom.
How cool are those jars hanging from the ceiling? Ingenious storage solution right there, made possible by a very technical method using magnets. We love the industrial style light bulb as well.