This is Handcrafted Movement's first tiny house, and as soon as you see it you hope it's just the first of many. Founder Matt Impola makes a lot of things – tables and cabinets, kitchens and living rooms, even skateboards – and finds time in between to serve as executive director of the nonprofit Artisan Academy, but it sure looks like he's got a great career as a tiny house builder ahead of him if he wants it. The oddly canted roof makes for an intriguing silhouette atop the 24-foot trailer, but (as you'd expect from Matt's portfolio) the interior far outshines it. Literally, in fact – the house is loaded with windows and bright with all that natural light reflecting off the gleaming white walls.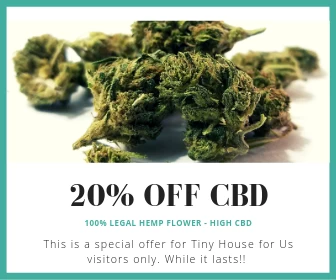 Plants soak up the sunlight and provide welcome splashes of life and greenery throughout. However, the attention to detail is what really makes this stand out from the crowd – the well-crafted little touches everywhere you look, from the hooks to hang the kitchen utensils to the side table extension that's perfect for holding a teacup.
h/t Tiny House Talk
There's actually so much here that it would probably seem busy if it weren't so well executed; as it is, it's a stunningly successful effort. Look for more on Handcrafted Movement's Facebook page.