Way up north in the giant state of Alaska you'll find this tiny home, designed, owned, and built by Mark Wipfli. He calls it the "Midnight Sun Tiny House" and it's perched on his Fairbanks, Alaska property. Prior to building it, he lived in a log cabin nearby, which he currently rents through Airbnb to earn a little extra income. The remote location doesn't offer much in the way of commercial shopping centers or tourist trap sightseeing, which is exactly the point.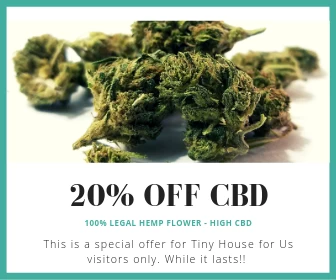 The home was built to withstand the extreme climate, where winter months of sub-zero temperatures eventually give way to moderate warmth in the summer. Thanks to some careful planning, and a lot of insulation, he doesn't have to worry about heating the home, using a simple electric heater to do the job in the winter and relying on mother nature for natural heating and cooling int he.
Aside from the sweeping views, fresh air, and occasional northern light shows, guests who visit can enjoy fresh bounty from his vegetable garden and green house, and he also has a pottery studio, hot tub, garage, and chicken coop on the land.