From a small tent in a valley framed by the glacial walls of Half Dome in Yosemite National Park to a 1950s trailer on the shores of Abel Tasman, New Zealand, Natalie Pollard has spent most of her life engulfed in nature's beauty and fully awakened by the freedom of living simply. Today she lives in Asheville, NC and is the proud owner of her own tiny house on wheels. Located on a plot of land with some like-minded friends and a few other tiny homes, she has found a permanent place to call home, where she can fully realize the freedom of living with less. We should all be so lucky, so inspired – and maybe her story will help inspire you.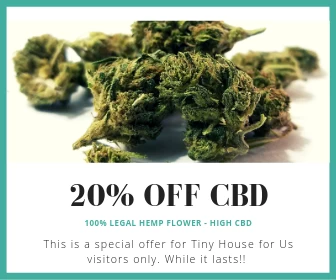 Natalie walks the walk, and runs a little store in Asheville, NC called "Villagers" that sells supplies for the modern homesteader. She's immersed in the culture of sustainable living, with a good many friends and connections to call upon who helped make her dream a reality. Her inspiring shed style tiny home blends rustic simplicity and creative innovation, resulting in a beautiful home made with salvaged materials, restored antiques, and a dash of country charm.
She recruited the folks at Nanostead to help with the build, a good decision by the looks of it. From the initial conception in May of 2014 to the completed build in September, Nanostead worked with Natalie to get everything just right. Although well-versed in homesteading and urban farming, this is Nanostead's first ever tiny house on wheels. They used SketchUp to conceptualize the structure, which they dubbed "The Villager". The initial design is shown below.
Let's start with the exterior. The 5′ x 16′ deck serves as a great extension of the house. With limited space inside, having a place like this to relax while soaking in the surroundings was important. It's a great place to read a book, enjoy a meal, or just kick back with friends over a cold beer. The deck itself is modular, and can be easily taken apart and towed wherever the house goes.
The pinewood siding makes for a striking feature of the exterior and looks amazing thanks to a heavy dose of Lifetime treatment purchased from Build it Naturally, a retail store selling high quality sustainable building materials. The siding received a non-toxic coating that protects wood from rotting while allowing it to age gracefully. Over time the dark brown shades will give way to a lighter gray patina.
Another unique touch is the large parallelogram window that runs the entire width on each side of the dormer, where the sleeping loft is found. It's an interesting shape that we don't often see, and with windows on three sides the loft receives plenty of warm light during the day. Below you can see the view from the loft, accessible by ladder.
We often wonder what sort of transition was involved for people who move into a new tiny house. For some, the change can be drastic, but for Natalie, who spent years living in small dwellings, the move was a natural graduation. Like most tiny house owners, the decision to build sprouted from the desire for freedom and her past experiences.
"It is truly remarkable how little I actually need to be content. I've been testing the boundaries of this, and have found for myself, the more that I own and the more that I want, the more burdened I feel. The conscious choice to live with less, for myself, is akin to freedom."
Much of the interior pieces were sourced from Blue Ridge Surplus, a construction salvage yard in West Asheville where you can sift through piles of left over materials from construction jobs. Locally milled tongue and groove pine covers the ceiling, and all interior wood has been treated with Hemp Shield, a natural sealant. One of the interior walls is covered with wood recovered from a civil war era cabin, adding a depth of history and character to the space.
The house itself is situated on a friend's property, a tiny home village if you will, which also hosts a "yome" from Red Sky Shelters. The occupants of this little homestead share similar values, making it an ideal arrangement. The property includes a big vegetable garden, chickens, bees, and plenty of forest surrounding the land.
Natalie decided to put a little extra money toward the large windows that appear on the sides, a great decision by the looks of it. They let light from outside spill into the small space and offer a sense of openness inside. The interior is decorated simply, with a small desk and a corner outfitted with various pillows and throw blankets to relax.
As a relative newcomer to the community of tiny home owners, Natalie expects to make continual adjustments to her living situation while she figures out how to best use the space. We hope to see more of her home in the future, and encourage you to follow her journey which is well-documented on her Tumblr blog, Hello Tiny Home.
UPDATE (September 2016): Natalie moved out last winter (she shared the reasons behind her decision on her blog) and the new owner, Tony, is looking to resell or partner with someone who wants to operate the house as a B&B.