The Tiny Tack House is one that's fairly well known among tiny house aficionados. It's owned by Snohomish, Washington, couple Malissa and Christopher Tack, and was also designed and built by them. The reason for its fame is not so much its design (although there are a few unique and interesting features that we'll mention below) as the generosity of the Tacks themselves in sharing everything they went through in constructing it with the tiny house community at large.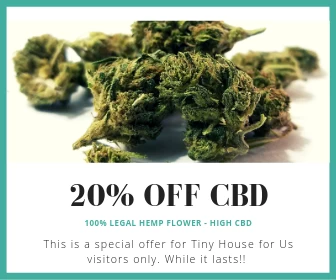 Their excellent blog, written by Malissa with photographs by Chris (a professional photographer), is an invaluable reference for anyone who's thinking of going it alone in their own tiny house journey. It's quite detailed and quite long, with over 10,000 words of content and innumerable high-resolution photos, so we thought we'd give you a quick preview here to whet your appetite until you find time to read the whole thing yourself.
To begin with, let's introduce Malissa and Chris. Before moving to Washington state, they both attended Kendall College of Art and Design in Michigan where they met cute not in the classroom but on a train to Chicago. Chris was studying photography, Malissa 3D animation, and both minored in graphic design. Their shared creative streak and the training they received at Kendall equipped them with the tools they needed to design a house from scratch, and a desire to give physical life to their creation lent them the confidence to go ahead with the project despite their lack of construction experience.
The Tacks conceived the idea of building a tiny house in early 2011 and spent over a month working on the design, coming up with different plans every week. In the end, they settled on the Fencl (now called the Cypress) plans from Tumbleweed They found it challenging to optimize the small space for two people who worked largely from home – not to mention two indoor cats – but by the end of April they were satisfied they'd gotten it right and ordered a trailer. After they picked it up they were so eager to begin the project that they stopped off at Home Depot to load it with lumber before driving home.
Note the magnetic spice containers attached to the refrigerator – a great little storage saver!
Thanks to a typically rainy Washington state May they didn't get to start construction right away, but when the weather dried out they dove into making the subfloor and never looked back. Day One was officially May 20. Laying and reinforcing the 1/2" plywood subfloor took until June 9; the walls and loft beams were in place by the 17th. July saw completion of the sheathing, and Chris's father, Steve, visited for a week to help with the roofing and electrical work. After he left, Malissa and Chris undertook the challenge of putting in the windows and skylight and completing the roof.
Above you can see the couple's home office, which consists of a fold-down table and a huge iMac mounted on a swivel. Below you'll see the totally unique shower, which has been a hugely popular picture on Pinterest. They made it from a used wine barrel and a shower curtain that fits around the inside perfectly.
Working all day on weekends and two to four hours a day during the week, they got that finished in early August. They lost a couple of weeks waiting for their order of cedar siding to arrive, then went to work on staining it. By this point Chris had gotten busier at work, so Malissa put up the siding and did the window framing alone during the first weeks of September. Spending upwards of 12 hours a day on the house, she ached all over, acquired countless bruises, and noticed that she'd lost over 20 pounds since the beginning of the project.
Chris was able to start helping again towards the end of the month, finishing up the electrical work himself and installing the interior paneling together with Malissa. The couple also added the insulation at this point. They wanted to use a natural material for that and chose wool to get the job done, arriving at an R-value of about 21. They needed a lot of it, but found it easy to work with. For the ceiling they installed a screen divider at the midway point to prevent the wool from settling.
Another design touch that we love are the cabinets on either side of the bed.
By October the Tacks were working on the interior walls for the kitchen and bathroom and had begun building the kitchen cabinets. In November they finished those, the living room cabinets, the dormers, and a host of miscellaneous tasks before Chris started on the plumbing. (He did all the plumbing work himself, but had it checked by a licensed plumber to ensure there wouldn't be any leaks.) For a shower tub, they used half of an old wine barrel.
Malissa and Chris finally moved into the house in December. They hadn't exactly finished working on it – the plumbing and the interior walls weren't quite done – but it was livable and the move saved them a month of rent. The missing details were quickly filled in and within a few months life had settled down to normal in the Tiny Tack House.
By the time they had finished, they spent around $20,000 and racked up 800+ hours of work. The Tacks continue to make themselves and the knowledge they've gained available to others who are interested in tiny houses. They've held open houses and sell the plans for the Tiny Tack House on their website. Chris even developed a host of inspirational designs using 3D modeling software. Malissa continues to update the blog and has also developed plans for a Tropical Tiny House.