Their Facebook page is called "Our Little Secret by the Sea", but the owners of this tiny house in northern Florida aren't doing much to keep people from finding out about it. Besides the social media promotion, the property was recently featured on the FYI reality series Tiny House Hunting (Season 1, Episode 4). Surrounded by semitropical vegetation and on a small lot on St. George Island, the 192-square-foot blue and white house comes complete with a VIN, license plate and state vehicle registration to qualify it as an RV for compliance with zoning restrictions. Aside from a city water hookup, it's totally off-grid.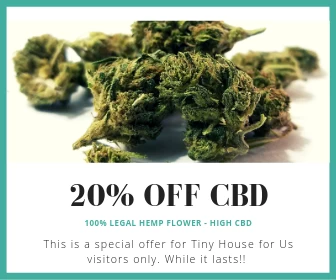 A big sectional couch makes for a great place to relax, and the second loft above provides a crucial bit of extra storage space.
The kitchen nook has a nice size refrigerator, and there's a small desk/workspace between the living room and kitchen.
Celebrating Christmas, tiny style, with a tree and some decorations.
Initially they added a small detachable front porch to the home. Later they built the bigger side porch, accessible from the french doors. This extends the limited interior space and offers a great place to relax and host a few friends without feeling too cramped.
Clever built in storage slides out from the couch.
The house has a propane water heater and stove, as well as flush toilet made possible by a connection to the municipal water supply. It's also got an array of solar panels and is off the electrical grid, but its environmental credentials are not particularly strong given that it needs not one but two generators to run the split-type air conditioner.
The solar panels may not do much for the landscaping aesthetic, but at least they provide a little clean energy to supplement the generators and keep the A/C running plenty strong!
They even manage to fit a full size shower in the bathroom.
Recessed LED lighting helps brighten the loft, with an array of lights in the ceiling and two more on either end of the headboard for less direct lighting.
The house was built by SignaTour Campers, a Florida company that has since gone out of business. If you want to see more of this house you can watch their FYI Network episode for free