Meet Vina Lustado, a seasoned professional based in Ojai, California. She may be one of the most humble, sincere, and kind-hearted people we've profiled. After a notable career in corporate work, where she collaborated on various high-end custom homes, she took an international fellowship in Germany to learn more about affordable, ecofriendly and sustainable housing. From that point on, she decided to focus on building eco-friendly, sustainable homes, adopting a holistic mindset that carries through her work. She now focuses on creating residences that meet those criteria at her own company, SOL|HAUS DESIGN. The tiny house you see below marks a crowning achievement in her new life direction.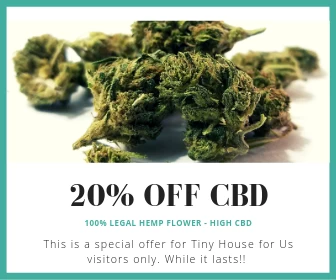 This 140-square-foot house is her personal project which she built on an 8×20-foot trailer for about $35,000. The low cost allowed her to fulfill her dream of designing and building a house for herself, and her goals of simplicity and sustainability were satisfied by a 750-watt solar power system that brings the house completely off-grid. Extensive use of reclaimed materials from a Habitat for Humanity ReStore reduced the cost and environmental impact even further.
Vina conceptualized her house as a modernization of traditional cabin architecture. She was going for a clean look, and she's achieved it nicely with a vertical shiplap jointed cedar exterior, all-natural organic whitewash on the walls inside, and custom-built cabinets displaying an attractive maple veneer over Forest Stewardship Council certified formaldehyde-free plywood.
Lighting is provided by a skylight augmented with energy-saving LEDs. Propane is used for heating the water supply and the house itself, as well as for cooking. There's a tiled bathroom with a sink, shower and composting toilet; a ceiling fan to keep things cool in the summer; and a sofa that doubles as a bed. Many of the interior elements, including the art glass and bespoke linens, were acquired from local artisans.
As you'd expect for something designed by a professional architect, Vina's house is rock-solid sturdy. She stabilized the frame with supplemental steel welded to the trailer, used Simpson Strong-Ties to bind the walls to the foundation, and attached the roof rafters with TimberLOK heavy duty wood screws. She also employed diagonal bracing at wall openings to shift the load to the side. After one rainy, windy winter in the house she's happy to say that the care she took in building it has paid off: it stayed warm and dry with zero mold and condensation.
For more information:
Visit Vina's website, Sol Haus Design