In Sarasota, Florida, close to Siesta beach you will find this small 1.5 acre, private lake island. On it, owners; Tim and Sam have chosen to build their second tiny home.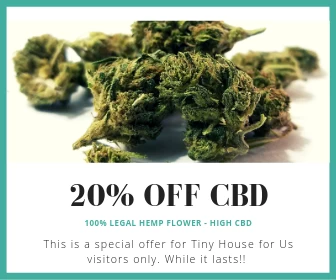 We connected with them for their best tips on design, minimal living tips and the emotional benefits tiny living has had for them.  
Purposed design
This tiny house has a somewhat lesser seen octagon shape with a specially designed truss system. This has proven success against all major category 5 hurricanes, making safety a priority while still being super aesthetic.
The 320 sq ft foot tiny house has big windows to let the natural light in so the space feels bigger. This is important for pets too, since they also have a good view and won't feel caged. The design with vaulted ceilings makes this tiny home appear bigger and affords for more privacy than the typical designs out there.
Sam explains
"Because we knew we wouldn't be moving a lot, we were open to both tiny homes on wheels and on foundation, like our home on Shellmate island. Our jobs tie us to a location, which is fine for us. This is a good factor to consider for future tiny home owners."
On cutting down
"When we were deciding to move in together, we wanted an option that made the most sense for us long term. We both knew about tiny living and felt that it would be a fun lifestyle and a smart move for our futures. We lived separately in larger homes, and both experienced a lot of unused or inefficiently used space, as well as excess junk that we didn't want or need.
When we made the decision to go tiny, we knew it meant getting rid of most of our belongings. Tim and I got rid of 80% of our belongings in 90 days. It was fairly easy, but the biggest challenge was getting rid of sentimental belongings or memory keepsakes. We compromised on this by taking great photos of everything we decided to get rid of. We also developed a new habit of picking up postcards in our travels instead of items that take up more space."
When asked about their best buy under $200:

"The air fryer since it's so compact and does so much for our kitchen since we bought it, we use it every night!"
Storage Pro Tips
"Living small means using space efficiently. Many of our spaces are multi-function or maximized for efficiency, and there is built in storage in every nook and cranny. We make the most of our space by stacking vertically, and making use of space organizers.
The use of stairs is an option that made the most sense for us in terms of pet-friendly living and storage. Our pets did not have to learn to use the stairs, or be excluded from a part of their home. You can read all about the pros and cons of stairs vs. ladders in our most recently blog post at www.tiffanythetinyhome.com!"
Emotional Value
"Overall, tiny living has provided many benefits for us. We have noticed that our communication skills have improved, and I personally have experienced less anxiety. Being in a smaller space and having less junk to deal with is very soothing. The simple lifestyle is a really beneficial mindspace for me.
Our relationship has improved because we speak more openly about how we feel, and we cherish time with loved ones on holidays instead of exchanging gifts. I breathe easier knowing that I am doing my part to reduce my carbon footprint and the burden I place on our Earth. We consciously consume rather than impulse buying, as everything in our home must have a place and if possible, more than one function.
Going tiny has allowed us to pay off our first home together in under 4 years, less than 10% of the time it takes most young couples to pay off their traditional mortgage. This upcoming year, $12,000 will go back into our pockets to invest into our future! Shellmate island presents an opportunity for us to share this lifestyle with others as it was shared with us, and hopefully make others aware of the options for home buying.
We believe the future is tiny!"
You can follow Sam and Tim on their daily journey right here at @shellmateisland