Here's a gorgeous 185-square-foot tiny house made from salvaged materials. Built by Ryan O'Donnell of Humble Hand Crafts, this tiny house certainly demonstrates his hand crafting abilities. Ryan is a carpenter by trade, and takes the notion of sustainability seriously, even using a bio-fueled generator to power the build. Every inch of the home uses salvaged materials and local handcrafted materials, resulting in something more akin to an art display. The build blends dark redwood, cedar, and pine together for a rustic look. He used sheep's wool for the insulation, and even custom made the windows in his workshop using old growth redwood.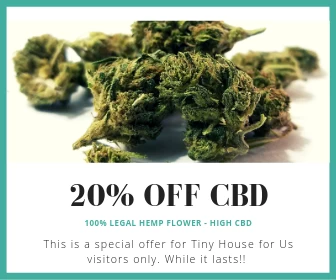 The floor is made from reclaimed walnut, with a hempseed oil finish.
Those copper light sconces? Also one-off and custom made by a local Californian out of Santa Barbara. The wood stove also comes courtesy of a local steel artist.
The fencing that extends around the front came from splitting grape stakes from Oxnard, CA and the shower pan was custom made by a Ventura CA fabricator. A composting toilet and shower can be found outside the home, an unusual choice that might not work well in a cooler climate but in temperate Southern California it's perfectly reasonable.
Small details tend to matter more in a tiny house. For example the front door stained glass window which was made by a local artist, and the back door stained glass that was hand-blown by another in Indiana. The LED lighting was custom built by Andrew Prestridge, a local electronic enthusiast.
The countertop foundation was made from a slab of cedar that came from a fallen tree in Libby Park and the Manzanita cabinet door pulls were collected from Big Sur. Even the counter top tile was made locally.
Ryan hoped to live in this home at first, but after completing the build and receiving great coverage from high profile sites like Today and Zillow, he decided to sell it instead. He priced the house at $80k and aims to use the funds to start a new business. This project certainly displays his talent, and we wish him all the best in future endeavors.