DC area builder Humble Houses describes its 420-square-foot DreamWood as a "luxurious park model", and that seems about right. This is a big, spacious home with lots of elbow room in the sitting area, the appliance-heavy kitchen, and the elegantly appointed bathroom. Of course there's also a ground-floor master bedroom, and here Humble Houses has been even more generous with the space. There's plenty of room to walk around the queen bed to the his-and-hers wardrobes on either side – but during the day, you don't have to! The bed is a custom murphy model, and when it folds up, a desk folds down to turn the private bedroom into a private home office. We usually see murphy beds in smaller THOWs, but putting one in a park model turns out to be a great touch that effectively gives you a whole extra room and greatly expands the functionality of the home.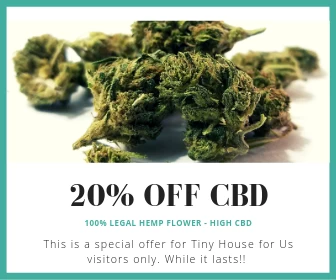 The DreamWood costs $85,000–$110,000, depending on how it's finished, meaning it's not exactly the cheapest park model you can find. A brand-new Kropf Island series is less than $70K, for example. You do get more in the way of custom craftsmanship from Humble Houses, though, and there are several additional reasons you might want to go with this company. If you're interested in one of their units (they also make 24- and 28-footers), they'll let you stay in one of their display models for a couple of nights so you can make sure it's a good fit. If you buy one, they'll donate 10% of the sale to autism outreach. They'll also provide you with a parking spot for the first six months. And if you decide to leave your humble house for good, they'll buy it back for up to 80% of what you paid.
Modern/classic exterior styling comes standard; a fold-up deck is optional.
Taking the long view.
The counter between the living room and kitchen doubles as the dining table.
Full-size appliances and a wall made of 150-year-old reclaimed barn wood.
The bathroom is a flawless blend of space, storage and sophisticated finish.
Two rooms in one, thanks to the fold-up bed and a fold-down desk.