Although this is the first time we've featured one of their homes, Hummingbird Tiny Housing has been around for quite a while. The Georgia company built its first tiny in 2010, making it one of the first tiny house builders in the southeast, and owners Tom and Denise had been in the construction business for 30 years before that. They say the Royal Iris "is the culmination of [their] many years designing and building tiny homes." It's a 26-footer on a triple-axle trailer, and it features a compact but very fully-featured kitchen, a built-in dining/work table, a 12-foot sleeping loft, and a luxuriously large bathroom.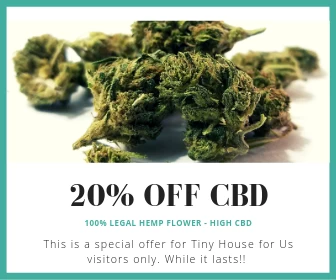 The Galvalume metal roof and lap siding cover sturdy 2×4 construction secured by hurricane brackets and tie-down braces.
The kitchen's end-wall orientation reduces counter space, but all the appliances fit, including a big side-by-side refrigerator with double freezer drawers.
High windows supply natural lighting even with the upper cabinets – and you can use the cabinet tops for extra storage space.
Pulling back, you can see the dining/work area and the living room. There's enough space for a sofa bed.
The view from the bathroom, which has a washer/dryer and a duel flush toilet…
…as well as a tile floor, a 48-inch vanity, and a jetted walk-in tub.
h/t Tiny House Talk