East Tennessee builder Incredible Tiny Homes started out a couple of years ago with some small, simple, and amazingly inexpensive houses, like the 128-square-foot Little Joppa and the $20,000 American Freedom. Since then they've expanded their repertoire to include larger, correspondingly pricier builds such as this French Quarter model, which is 28 feet long and costs $49,900 base / $55,000 as shown. Judging from these photos, they're still doing great work on a larger canvas (and they still do tiny and cheap – their current quote for a 16-foot THOW is just $25,000).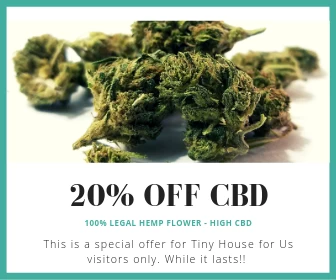 Lots of room (and lots of windows) in the living room!
The other side of the house holds everything else.
The solid, safe-looking staircase that leads up to the loft merges into an impressively large set of cabinets.
The kitchen really is complete, with a full-size oven and range, a microwave, and even a dishwasher.
Of course there's also a full-size fridge & freezer unit – and a full-size washer/dryer next to it.
The bathroom features a flush toilet and a vanity sink across from a small shower stall.
Upstairs is a comfortably carpeted sleeping loft.
h/t Tiny House Talk