Building a house for the first time is a challenge for anyone, but Michelle de la Vega found that it can be especially hard for a woman trying to go it alone. Even though Michelle's a tradeswoman herself (a welder), many of the subcontractors she dealt with while she was converting an old South Seattle garage into a 250-square-foot tiny house refused to take her seriously because of her gender. She didn't let that stop her, and after a few bad experiences eventually found a trustworthy carpenter who helped her finish the job, transforming her design concept into a stunning reality.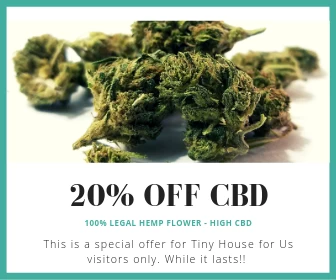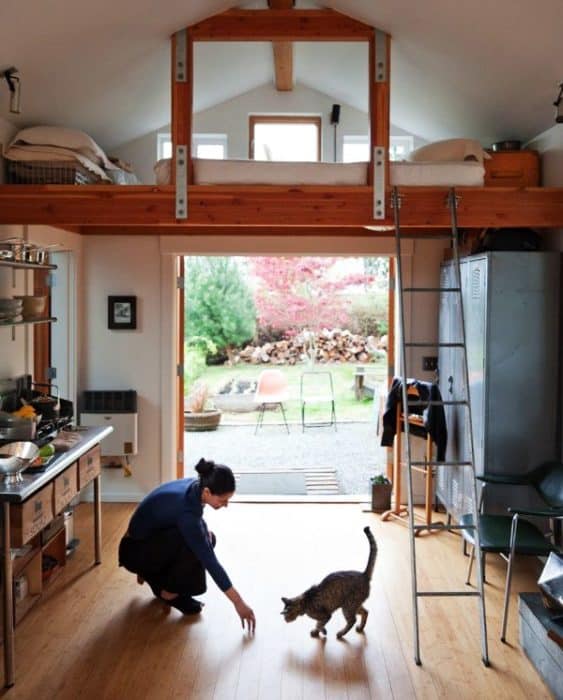 It's a top-flight design, too, and that's not just our opinion – renowned English designer Sir Terence Conran even featured it in a 2012 book, and many other home design publications have featured her house, including a 3-page spread on the New York Times Home & Garden section. You may have also seen her house profiled on FYI's Tiny House Nation – you can check out the Youtube clip below.
Michelle did the interior metalwork herself, and salvaged most of the furnishings and fixtures from second-hand stores. In the interest of privacy she added only a few small windows, but positioned those for maximum cross-ventilation and sunlight. She also built a small tiled bathroom holding a vintage metal tub onto the original structure.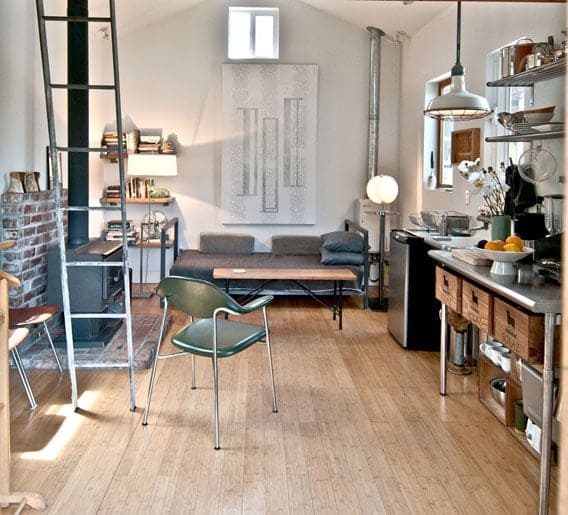 What makes it interesting is that Michelle managed to transform the garage into an eminently livable space while still keeping it very recognizably a garage. With the industrial-style shelving and lockers lining the sides of the main open area, you actually wouldn't be surprised to see a classic car parked inside!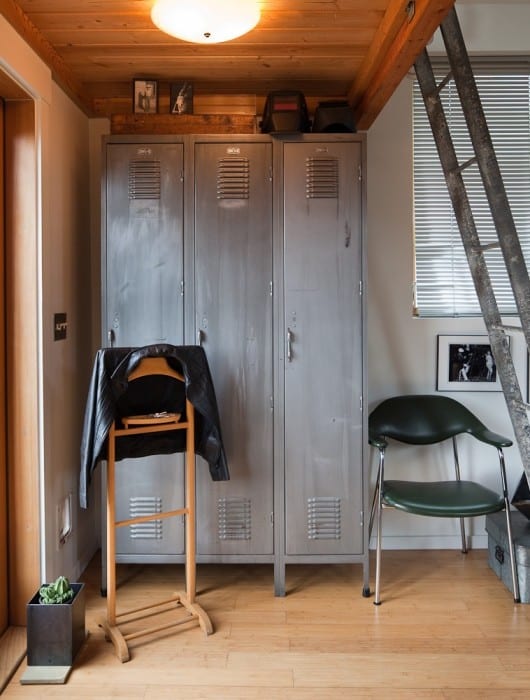 Photographs: Ira Lippke, Graham Syed
Michelle lived in the garage for a while after completing it, but moved into a larger place after she got married. Wedded bliss didn't mean that she traded in homebuilding for homemaking, though – she and her husband, who's a contractor, went on to remodel their new home together. As for the garage, it's now generating rental income and is currently in use as an artist's studio.
If you'd like to spend a night at Michelle's house, you can visit the VRBO listing here.