Most of us like shiny objects, but few of us ever found one that inspired such a fantastic creation. While browsing a used furniture store one day the builder of this beautiful little cabin found a shiny sink. As he writes on his website,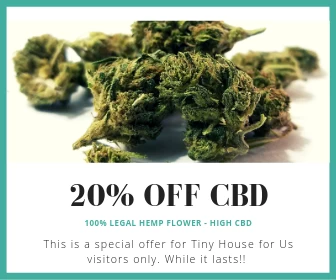 "Enamored of shiny objects, I coveted its golden glow, entirely aware of the fact that I had no use for such a thing. I wandered around for an hour or so with it in my hand, looking at other stuff, realizing that if I took it I'd have to build a home for it."
And build a home he did, and not just any home but a seriously inspired Japanese-style zen retreat with a soul of it's own that surely radiates into the surrounding forest.
This is perhaps one of the most authentic builds we've ever stumbled upon, defined by an appreciation for the perfect imperfections of nature and a simple aesthetic that's reflected in Japanese tea house architecture. Built and owned by Brian Schulz of Cape Falcon Kayak, this little gem certainly has a personality of its own thanks to his attitude and approach toward building it.
"The simple act of searching adds richness to our lives."
In true "barn to table" fashion, nearly every piece of the house was salvaged from a radius of ten miles, and local artists were recruited to incorporate small details in the design. He milled the lumber himself on-site Even the paper used in the Japanese lanterns was hand made just seven miles away. As he so eloquently puts it, "The simple act of searching adds richness to our lives."
The house sits on a 200 square foot concrete pad, with a frame built from logs found floating on a pond or from fallen trees on nearby properties. The exterior employs a creative use of Hemlock, Spruce and Cedar elements that combine to form the walls, ceiling and roof. Beautiful walnut slab counters can be found in the kitchen. Windows came from the local dump, and cost a measly $40. Handmade steel knifeplates hold the staircase in place, which was made from, you guessed it, a nearby log he found. Cedar stumps serve as tables, and even the deer skull came from a deer he shot and ate.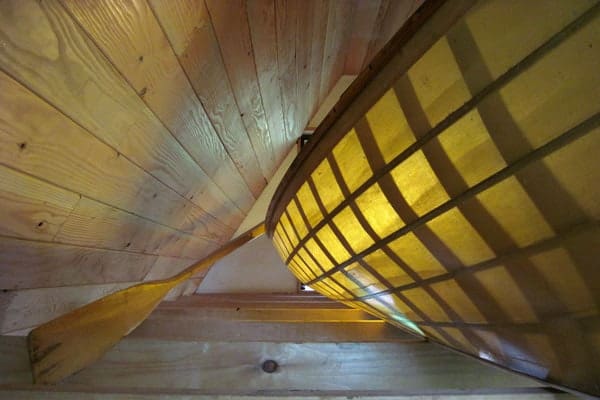 What's your favorite aspect of this amazing house? It's hard to say with so many details, but I think the overall simplicity of the process led to something that's so far beyond simple. Share your thoughts in the comments below.