The Sunny Side isn't flashy, and it's not meant to be. Builder Brevard Tiny House Company (based near Asheville, NC) emphasizes livability and affordability over glitz and glamor. They spent months optimizing the floor plan for the needs of the young couple who commissioned the Sunny Side, and came up with an exceptionally functional residence costing well under $50,000. A slide-out stove/oven, non-traditional furniture placements, and a bathroom reduced to the essentials of toilet and shower are just a few of the ways they saved space. A small thermostat-controlled space heater keeps the Sunny Side warm through snowy Pennsylvania winters, while plentiful ventilation and a ceiling fan make it just as pleasant in the summer.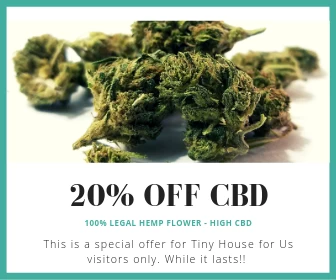 A cozy couch separates the living and dining areas, and in fact the owners make a point to have furniture that can be moved, allowing for multiple configurations.
The space is there and the plumbing is there, so underneath the kitchen counter turns out to be a great place for a washing machine.
Good headroom and – thanks to three windows – good natural lighting enhance the loft bedroom.
The entryway is also the primary storage area for clothes and shoes.
The bathroom's kept as small as possible, with no sink or mirror – after all, there's a sink in the kitchen and a mirror in the hallway.
Numerous kitchen drawers store the cookware –
and even the oven!
While it might not be the fanciest tiny house we've ever seen, it does have everything you'd want to live comfortably. Plus, with a lower budget than most, Brevard was able to deliver a high quality home that will last for years. You can always dress a house up with your own decor and extras, and the added freedom this owner gets from living on their terms, rather than the bank's, makes it a sunny proposition indeed.