Chris Heininge Construction gained attention for this beautiful little design that squeezes more style and luxury into 280 square-feet of space than most houses five times its size have. From the cedar-clad exterior to the warm and spacious interior, every inch of this tiny house was built with an attention to detail that's hard to match and a zen-like approach that seems perfectly balanced between luxury and necessity. The end result is nothing short of stunning. There's a lot to check out, so let's dive in.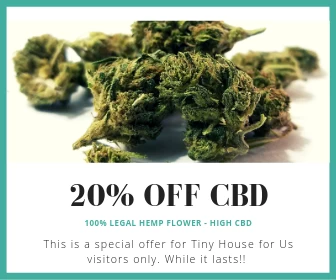 Above you can see the well-appointed kitchen area, with stainless appliances, a wall-mounted television, and small kitchen table.
A sleek gas fireplace warms things up, and instead of a ladder leading to the sleeping loft, you'll find a perfectly usable staircase – a big plus for any older folks or disabled people who might not be able to climb as easily. Another great feature is the storage that's included in the stairs, making the most of every inch of space. Notice how that first step is angled toward the wall – yet another way the builder adds a few extra square inches in this tight space.
The living room offers a relaxing place to chill out, and of course, more built in storage cabinets everywhere you look. That blue couch pulls out, transforming into a queen sized bed for your guests, or a great spot to lounge with your loved one (or large dog as in my case).
As we head upstairs to the loft things just keep getting better. The sleeping area features a queen size bed, with built in end tables and storage, plus room to stand up! I also love the large window that lets natural light spill in, and at night the sleek recessed LED lights help brighten the area up just perfectly. It brings together style, form, and function in one perfectly arranged space.
By now you're probably thinking, "I want to live here" and you will surely feel that way once you see the bathroom. It's pretty straightforward, with a sink, cabinet that you can use for a washer/dryer if you want, and toilet. But then, there's the jacuzzi bathtub, with shower extend.
As if all the elements that went into this tiny house weren't enough, just wait, because it gets better. While the house isn't on wheels, Chris decided to make it easy to transport by designing a detachable roof. In just a few minutes the house can be made ready for transport on a 20′ flatbed truck. There's no doubt that Chris Heininge is a master craftsman, as demonstrated by this build, and the 100+ other houses he helped build in Oregon, Arizona, and Washington.
In case you were wondering about the inspiration for the design, there's a story there as well. Chris spent twenty years doing missionary work in Japan, Hong Kong, India and Macau. While in Japan he helped build and remodel houses, and as you can tell, the Japanese approach toward simple and functional design aesthetics rubbed off. Hopefully there's enough demand to get them to consider making more of these, or releasing building plans because we love every square inch! Chris' work is truly inspirational, and we hope to see more of his efforts in the future.
For now, this is the only one of its kind available; it's for sale at $59,000. In case you were wondering about floor plans, you're in luck because according to his website, they will be released for sale soon. We can't wait.
Closing thoughts
As with any tiny house that costs this much, we usually get a slew of comments and opinions, and while mostly positive, I wanted to take a moment to address the inevitable "$60k?!? That's crazy, I could never afford that." statement that's sure to arise.
With a rising tide of interest surrounding the tiny house movement comes an increasing demand for builders and more designs to draw inspiration from. We're seeing new builders like Tiny Heirloom Homes emerge, making tiny, fashionable little houses that sell for upwards of $65-100k. And while this one clocks in on the low end of that figure, at $60k, it seems worth every penny, especially when you see just how much detail and beauty is contained within.
Given the values of sustainability and the closely related vision of financial prudence that serve as basic tenets of the tiny house movement, it's interesting to see builders serving the higher end market. Naturally with a growing demand, it only makes sense they'd fill the gap. Regardless of the higher than average price, I think this is a good thing because with more competition and demand I think we will see cheaper alternatives emerge that don't compromise value for quality and comfort. So I'm hopeful that along with an increase in supply on the high-end side of the market, the low end will also find structure and development. We can only hope this continued interest brings about more affordable solutions to some of our most basic needs as a society for shelter.
Be sure to check out the Heininge Website for more details about this gorgeous build.