Want proof that living tiny doesn't mean you have to sacrifice luxury, comfort, and style? Look no further than this incredible example. Jenny and Rene Larson built this 24′ long, 8'6″ tall tiny house on wheels that includes all sorts of great design features, but perhaps most impressive are the two slide-out sections that offer them some crucial extra space. All said and done, it comes in at 222 square feet, and I think once you see the inside, you'll agree, this thing is packed with all sorts of amazing ideas, easily making it one of the most impressive builds we've ever seen!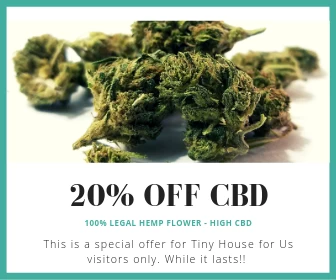 The couple spent a year building their tiny house, mostly in their spare time.
From these angles you can see the "normal" look, with the slide-outs tucked away…
When they want the extra space, a section on either side extends outward.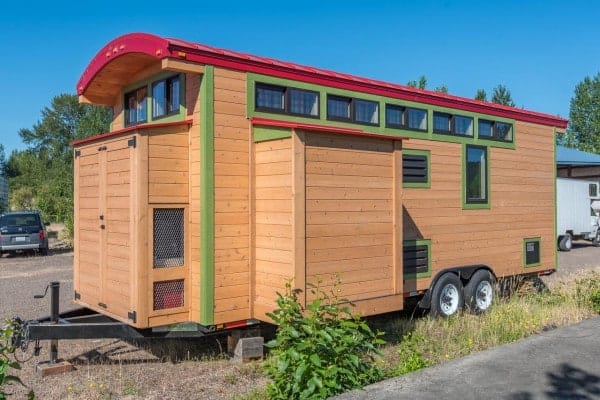 Each slide-out is mounted on steel rails, and it takes two people to manually move them into position.
The interior is well-equipped, with all the comforts you'd expect in a home, including a gas range, cabinets, and plenty of storage in the kitchen area.
So much storage everywhere!
The bathroom is outfitted with luxurious amenities, including a large shower that Jerry customized a bit with a grinder attachment, adding the swirls and coating it with a layer of protective wax. And check out that gorgeous hammered sink!
They used spray foam made from soy to insulate the walls, a material that offers outstanding R-value efficiency.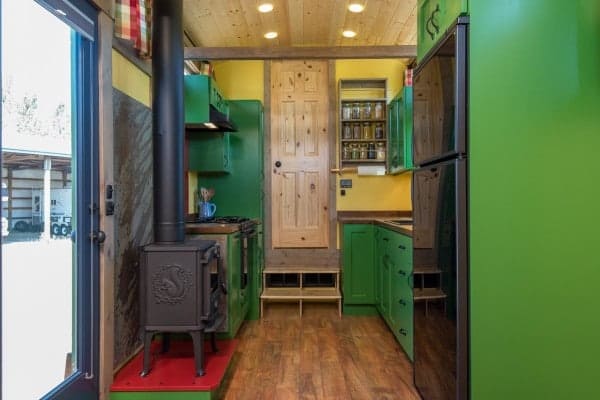 A 9 cubic-foot refrigerator allows them plenty of room for storing food, while the stove provides heat during the colder days. The door shown below leads to the bathroom.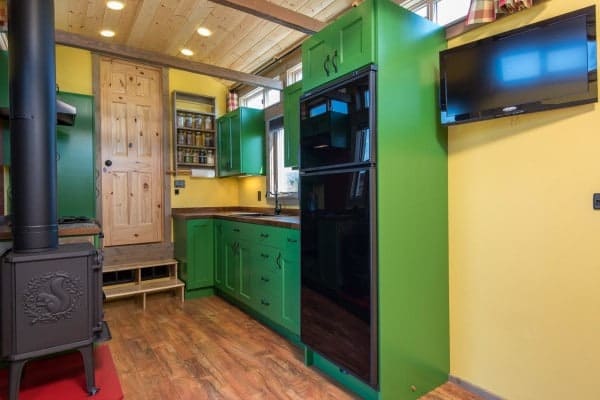 Two comfy recliners sit neatly in the living space, just in front of the charming dining area.
When they aren't using the dining table, a murphy bed magically folds down from the wall!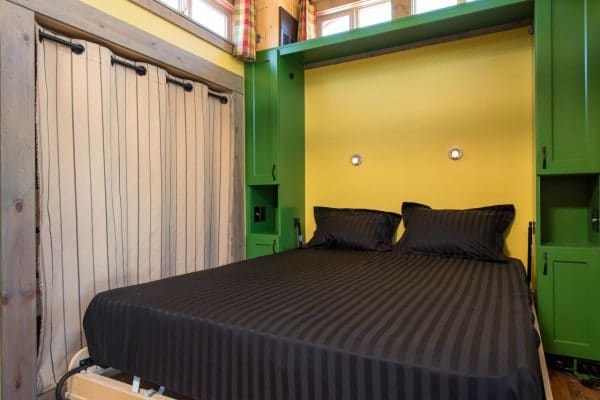 Plenty of storage to be found, and Jerry even fashioned a beautiful set of drawers from wine boxes.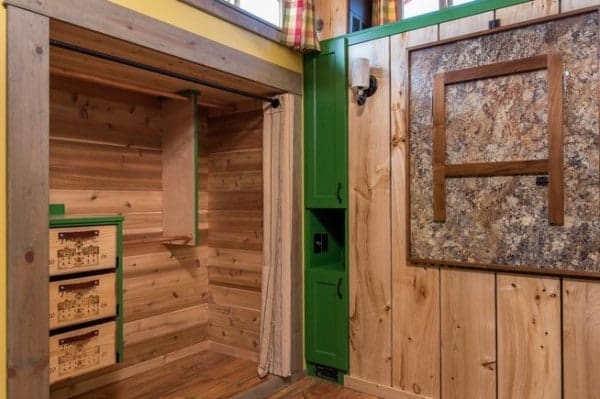 And check this out – an escape hatch! You never know when you might need a quick exit in an emergency, and Jerry seems to have planned for everything.
One end of the home serves as a storage shed of sorts, opening to reveal the propane tanks, a generator, and battery.
The opposite end reveals a "basement" of sorts, where they can store extra stuff. It's also where Jerry rigged much of the plumbing and electrical to run into the home.
Images courtesy h/t Tiny House Talk
Not too shabby eh? It's amazing what some people can do in their spare time, and it seems like Rene and Jerry nailed it when it comes to figuring out how to make the most of every square inch of their space. To be fair though, Jerry is a skilled cabinet maker and builder by trade, so he has plenty of experience under his belt. They estimate it cost $41,000 in materials, and are considering selling it for $71,000. When you consider all the labor and thoughtfulness that went into this, that seems like a pretty darn good deal to me.