This 32-foot fifth wheel THOW isn't a MitchCraft, but it may be a preview of where the up-and-coming Fort Collins, CO, builder is going. Since the company got started in 2015 they've been building houses at a breakneck pace, so it's no surprise that Mitch has been doing some hiring – and who wouldn't want to hire the guy who built this one? That's Ken Leigh, who brought it with him from Maine when he came to work for MitchCraft and now has it for sale at $80,000. OK, it's not cheap, but that may be the worst thing there is to say about it.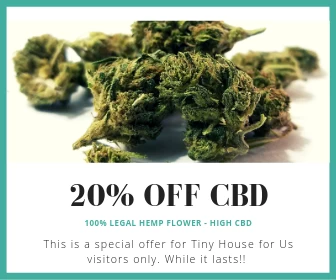 Once you get past the sticker shock, it's a good looking, roomy house with quite a lot inside. The curved standing seam roof gives it some character and good headroom, even with an overall height of just twelve-foot-two. The full-length run of both the cedar shake shingles outside and the shiplap walls and ceiling inside is visually impressive. The interior is basically divided in half by a cabinet holding a 5½-cubic-foot Norcold propane/AC refrigerator. On one side there's a living room with a big armchair and a small sofa, followed by a very accessible sleeping loft over the trailer hitch. On the other side is the kitchen, which has eight feet of counter space, an Atwood oven/range, and an EdgeStar washer/dryer about where you'd find a dishwasher in a regular size house. Beyond that is the bathroom; the 13-inch sink is kind of small, but the shower stall is an honest 32 inches and there's a big rack of storage shelves next to the Nature's Head composting toilet.
Under the hood, the house has 45-gallon fresh and grey water tanks, which together with a 12 volt 260 amp hour battery give it a measure off-grid capability. It's insulated with Roxul mineral wool and heated by a Camco Wave-8 catalytic safety heater.