She's a yoga teacher by profession, but Rebecca Grim also has a longstanding interest in architecture. When the time came for a house of her own, she decided it would also be a design of her own. She lives by herself – and likes it that way – so a small place seemed right, and she's not a landowner, so she wanted a house that could be moved as needed.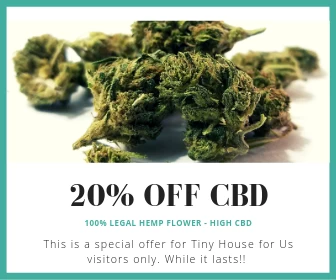 What she came up with was the 168-square-foot Keva Tiny House you see here. It may not look very mobile, but it's actually sitting on a 22-foot trailer; the Plexiglas covered porch can be disassembled easily enough and packed for shipping. Rebecca doesn't foresee doing that anytime soon, as she's renting a spot on some friends' beautiful Salt Spring Island, BC, property for just a hundred dollars a month. (Yes, she could take the Keva to the mainland if she wanted; she calibrated the size to be under the maximum dimensions for ferry transport.)
The house took six months to build and cost about $50,000 Canadian ($39,000 US) for materials and the labor of carpenter Rudy Hexter, his well-regarded apprentice Lenny, and a few other tradespeople. It has a cozy, natural look with lots of exposed wood and pebbled accent walls, and it feels pleasantly roomy for its size thanks to a 15-foot-high shed roof. It's connected to water and electricity from the property's main house and has cooking facilities and a shower tub with on-demand hot water.
h/t TreeHugger
If you're looking for the bathroom, though, you won't find it; Rebecca basically lives in the middle of the woods, so she goes either there or to a nearby outhouse to answer nature's call. Her house, her rules, and she's so happy with how it's working out that she and Rudy are thinking about teaming up to design and build tiny houses for other people too.