Ella grew up in California but attended university in Scotland, where she studied traditional harp playing and Scottish Gaelic. She learned that in Gaelic the color yellow is associated with happiness and beauty, and since it also reminded her of the California sunshine she thought it would be the perfect name for her house. The Tumbleweed Tiny House Company's Fencl (now known as the Cypress-18 Overlook) is an enduringly popular tiny house design, and Ella Jenkins is yet another happy builder/owner. She has spent the past two years living in hers, which she calls "Little Yellow". In fact, it's only the door that's yellow, but in the name lies a tale.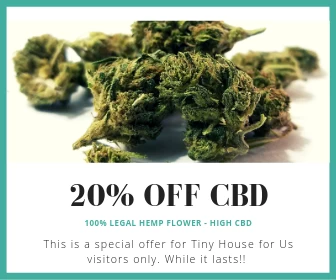 Ella and her boyfriend pose in front of their tiny house. Notice the Manzanita tree branch serving as a decorative pole on her porch.
And how did Ella become interested in tiny houses to begin with? Well, as you might expect from her rather esoteric course of study she's not the kind of person who's very interested in being tied down to a career strictly for the financial benefits. While still in Scotland she realized that she probably wasn't going to be earning a whole lot once she graduated and began researching inexpensive housing options.
Literally as soon as she found out about tiny houses she decided to build her own; she had her entire family on board with the project less than a day later. But as frugal as she was and as cheap as it would be to build her own tiny home, she still needed more cash than she had saved up. Undaunted, she worked a variety of fast food jobs, made craft jewelry from Scottish sea glass, and even put her harp-playing skills to use panhandling on street corners.
"This house and occupation have transformed my life so much from what I wished it could be to what it has come to be that I feel like I have time to do anything I have the means and moxie to attempt. I can barely believe this lifestyle is possible for a girl like me at all. Feeling so very blessed"
Construction of Little Yellow began when Ella returned to the US in September 2011 and was finished a little over a year later with a lot of work from Ella and a lot of help from her father and friends. Ella kept an incredibly detailed blog describing the whole process and showing exactly what a first-time tiny house builder can expect to encounter. She covers all the mistakes she made, along with the many triumphs she accomplished during the build, sharing plenty of entertaining stories and photos of her experience that make her blog one of the most comprehensive and fun to read.
In early October 2012 she tightened the last screws and gave a big goodbye hug to her father, and began the haul to California.
With help from a friend, they shared the driving and successfully towed the completed home across several state lines.
Ella eventually planted Little Yellow on a bucolic ranch just a mile from the Pacific coast. As serendipity would have it, she got a job as a waitress two days after arriving, and then met her boyfriend three days later. Since then she has been living there happily ever after, enjoying the beach and watching the horses. She's also started giving workshops on behalf of the Tumbleweed Tiny House Company to share her knowledge with anyone who wants to build a Fencl of their own.
One item she and her boyfriend splurged on was this wood stove, a slim, stainless version made by Unforgettable Fire that retails for a whopping $3,750. She and her boyfriend considered it a "forever" present to themselves, and we think it's well deserved. While pricey, they can heat their tiny home for about $10/month using wood. Plus it just looks awesome!
They also made room for one more occupant in their 120-square-foot space – meet Lobster, their rescue pup, who comfortably fits with the couple.
Though only periodically updated since 2014, we highly recommend checking out her blog at https://littleyellowdoor.wordpress.com/ where you can find 3+ years worth of content to pour over.