In Portland, Oregon you'll find the Caravan Tiny House Hotel, the first hotel of its kind consisting of six tiny houses that share a small parcel of urban land in the funky Alberta Arts District. You may have seen the recent Portlandia skit about tiny homes, which was filmed here. If not, you should check it out for a laugh. Guests at the Caravan can choose to stay at any one of the tiny homes (assuming availability of course), and each brings its own unique character and design. Today we're taking a closer look at the 160-square-foot "Skyline" model, which is one of our favorites. It arrived at the hotel in 2014 and shows off a creative look thanks to a mixture of salvaged materials like wood and metal.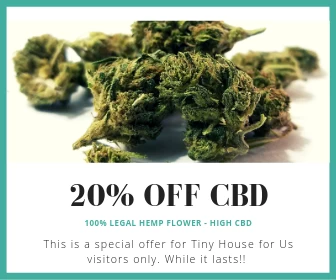 "The flooring is salvaged decking, the roof is re-purposed refrigerator panels, and the stairs to the sleeping loft are re-purposed industrial stairs."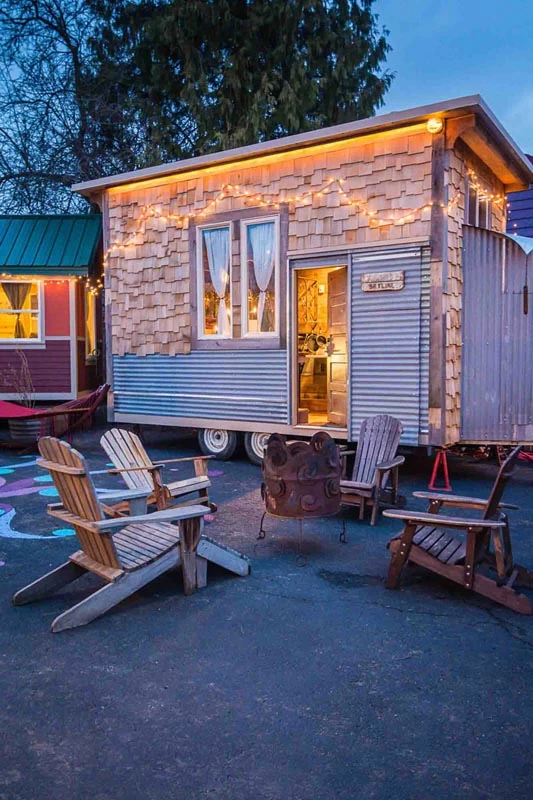 The folks at the Caravan collaborated with Eric Bohne on the build during 2013. A skilled craftsman, this was his first tiny house but you'd never know it.
Every unit comes with a small bathroom, complete with a flushing toilet and hot water.
The Skyline is shown on the right, alongside the Caboose and other tiny brethren.
Eric owns a salvage building company and a shop where he sells pieces of salvaged material, http://www.metalwoodsalvage.com/ and you see the rustic charm covering every inch of the inside and outside.
The Skyline is neatly decorated, and includes a natural wood counter and wrought iron railing in the raised sleeping area.
Each unit is equipped with a basic kitchen that includes a coffee maker, hot plate, microwave, and everything you need to whip up a basic meal.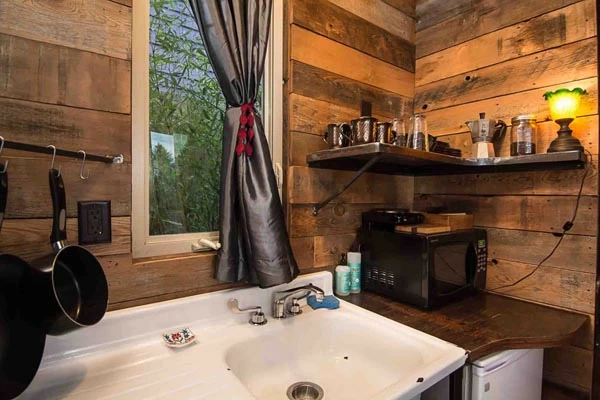 If you want to learn more, visit their website and be sure to check out the 360 degree tour offered here https://tinyhousehotel.com/the-tiny-houses/skyline/. For those interested in staying a night, be sure to check out the availability, as it seems the growing popularity of the Caravan means you'll need to book well in advance. We saw only a scattering of availability for the Skyline over the next couple months!