Today we're excited to share a gorgeous new build from upstate New York. With twenty years of architecture experience under her belt, Margaret Simpson had a pretty solid idea of what she wanted when she began designing her tiny home on paper. As a capable builder she had no trouble building her dream home, and did most of the work herself, from framing and plumbing to electric work. The end result as you'll see below is nothing short of perfection – from the unique tile in the bath to the stairs, and the tea room in the loft, there's so much to love.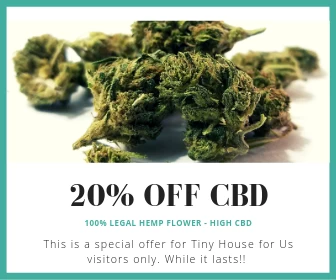 All said and done she spent around $20k to complete the build. Aside from keeping the costs down, one great thing about designing your own home is having the ability to include special features. In Margaret's case that meant including granite counters, custom tile work, and perhaps best of all, a tea room in the upper loft area where she spends a lot of time relaxing.
Thank you Margaret for sharing your wonderful home with us, and we are sure it will serve as a great source of inspiration for others!