When Nancy Shadlock decided to build her very own tiny home on wheels, which she named 'Margo', she had grand visions of living anywhere and everywhere without being shackled by the permanence of a concrete foundation. There's nothing overly flashy, extravagant or delicate about her creation but it does have plenty of small design touches that add up to a charming personality. The home has a kitchen complete with a gas stove, a full bathroom and sleeping room for four. It's hard to believe how much old-fashion charm  has been squeezed into every square inch the flat bed trailer had to offer. All nooks and all crannies are accounted for in terms of functionality and personal flair. It's everything that makes even first time visitors feel right at home.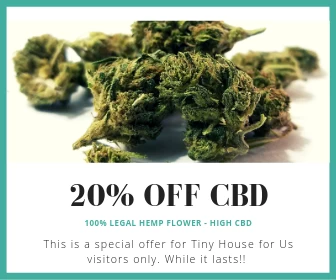 Simple and effective. This house on wheels ensures that home is always where the heart is.
A view from the bed loft shows off the charm of the cozy living room.
The kitchen is small but functional. Thankfully Nancy isn't 7 feet tall!
A rustic fireplace is all that's needed to heat the small space during long winter nights.
A four-burner gas stove is a luxury not many tiny homes can fit.
The home is filled to the brim with personal touches, such as this wacky mosaic back splash.
The bathroom is plenty big, complete with a low-flow shower and compostable toilet.
She used the random 2×4 scraps to build an art wall that pays tribute to the build. We also love the antler guitar hanger next to it!
A quiet sleeping loft enjoys natural light, ventilation, and even room to hang your clothes.
Take a trip through Margo with Nancy herself in this video!
More information: https://margosadventures.wordpress.com/author/nancyshadlock/