They tell you that if you work hard and save your money, you'll have enough for a down payment on a house in a few years. Thirty years after that, you'll have paid off the mortgage and be a full-fledged homeowner.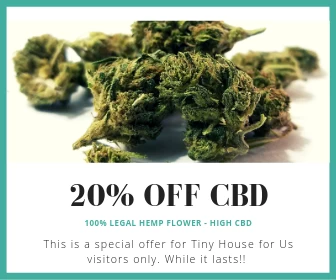 Tell that to Lydia Holden.
Working hard and saving came naturally to her, but she found the idea of a mortgage less than appealing. Thanks to a tiny house she calls La Casita, she didn't need one. Thirty years? Try 22 – that's how old Lydia was when she finished building her new home two autumns ago.
The now 24-year-old resident of Saskatoon, Saskatchewan, had already begun saving during her teenage years, even though she wasn't sure at first what she would do with the money. She got interested in the tiny house concept at the age of 17, and by 18 she was pretty sure how she was going to use her savings. Lydia didn't have enough cash to pay for everything right away, and she didn't want to go into debt to build her tiny house, so she spent a few years as a waitress at an Italian restaurant and saving her tips. Meanwhile, she practiced living small in a 300-square-foot apartment.

That was still more space than she needed, and in 2011 she purchased plans from the Tumbleweed Tiny House Company for their Cypress 18 model with an Overlook layout, which has only about 130 square feet of floor space. Then she made plans to start construction the following spring, estimating the total cost at about $23,000 and time to completion at six months.
That turned out to be a little optimistic – it actually took about eight months and $30,000 – but then Lydia took a few breaks from working on it, and cost overruns are par for the course even among professional home builders. In any event, Lydia was able to move in while construction was ongoing, and La Casita was still ready before winter, so the delay didn't cause any serious problems.

Lydia did most of the work on the house herself, but besides a good work ethic she seems to have a talent for organizing help when she needs it. She presented the project to the Saskatchewan Institute of Applied Science and Technology as an opportunity for hands-on learning, and a building class at the Kelsey Campus started things off by doing the framing, roofing and windows.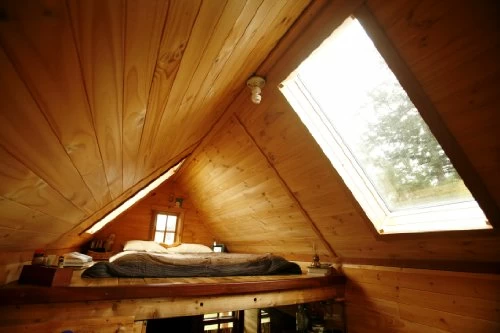 A friend with a truck towed La Casita from the campus to Lydia's parents' backyard, where the remainder of the work was performed. A friend who's an electrician helped with wiring, and a couple of friends who are carpenters worked on the cabinets and trim. Lydia borrowed hand tools from one friend, a table saw from another, and a truck from a third. A few people who'd heard about the project even showed up out of the blue and offered to help.

Part of the extra expense came from hiring contractors to work on two critical areas in which neither Lydia nor her friends had the necessary expertise: the propane heating system and the insulation. Considering that winter temperatures in Saskatoon have been known to reach fifty below, that wasn't likely to be a bad investment. And it seems to have paid off – La Casita is reported to stay comfortably warm through the winter on a diet of less than $40 worth of propane every month.
Lydia hasn't been sticking around to enjoy the coziness, though. Instead, she uses the money she saves on rent and utilities to travel for several months out of the year. If those happen to be the winter months, well, as she puts it, "Canadian winters do tend to encourage travel" regardless of how well-insulated your house is! If anything, living in a tiny house has made Lydia even more committed to an environmentally friendly minimalist lifestyle. She owns almost nothing but clothes, cooking utensils, and books, and her most recent trip took her to New Zealand to learn about sustainable agriculture so she'll be able to grow her own food. She hopes to do that in British Columbia, bringing La Casita with her, of course, once she finds a place where she can trade part-time work for a place to park it.
In the meantime, she's quite happy with the tiny house she built and owns. Although she admits that a higher ceiling and more windows would be nice, she says it has plenty of space for her and her partner. She especially likes the way its solar panel and composting toilet lower her electricity and water use and reduce her environmental footprint.
Many people who've heard of La Casita have contacted Lydia to tell her about their own tiny house plans. She says she loves what tiny-house living has done for her and always encourages anyone who's thinking about it to take the plunge and get started.