This darling tiny home is one of our favorites. It brings together a perfect amount of usable space, unique style, and practicality, thanks to the skills of builder Joe Everson. He and his wife own Tennessee Tiny Homes and Tiny Happy Homes, and he brings more than 15 years building experience to the scene.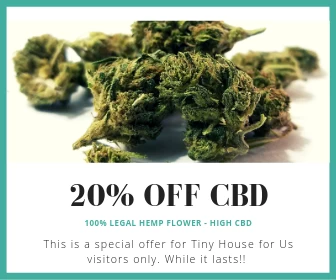 Ever since Joe stepped inside his niece's playhouse in 2011 he had an urge to take that small scale living approach to an adult level and that's when he started Tennessee Tiny Homes. Initially they served mostly the South, but with a growing demand he soon started builds for people all over the country, hence the realization of Tiny Happy Homes. Every model he builds shows off a unique design, guided by the whims and wants of his customer, and this "Mendy Cabin" is no different.
The Mendy shows off a traditional exterior, nothing too fancy, however the addition of a floor-to-ceiling window next to the door and the 4′ porch definitely add to its charm.
It seems to have found a perfect home in this setting, with neatly manicured landscaping on all sides.
Magnetic knife holder, multi-use cutting boards, and open shelving help keep things organized in the kitchen.
The upper loft is spacious, with simple décor on the ceiling.
Nice built-in cabinets provide storage, and the ladder doesn't get in the way.
We just love the door and windows on the front, which invite plenty of light into the space.
The built-in futon transforms into a comfortable bed, making room for guests, or just a more comfy place to lounge and watch a movie. The large horizontal window above also helps exaggerate the length of the home.
It's an 8′ x 16′ footprint includes all your standard needs, like a queen size loft, working kitchen with sink, two-burner stove, and refrigerator, an IR heater, composting toilet, shower, and even a 4′ porch that folds up for travel. She even has heated floors, which must be the envy of anyone who just survived the recent 2014/2015 winter!
With a solid design and build like this, you only need to put your finishing touches on the decor to make it a true home, and it seems like Mendy has done just that. Really there's not much we could improve upon here. What do you think, is this a place you could call home? To learn more about this project, check out http://tinyhappyhomes.com/project/mendys-tiny-home/