When we met Quebec micro-maison outfit Minimaliste two years ago they were putting the finishing touches on their first build, the Sequoia. They still make that model, as well as a couple of other THOWs and a 754-square-foot modular house, and this is their latest, the Sakura. It's a big place, 10½ feet wide on a 32-foot gooseneck trailer, with highly efficient hydronic underfloor heating, and the design looks quite livable.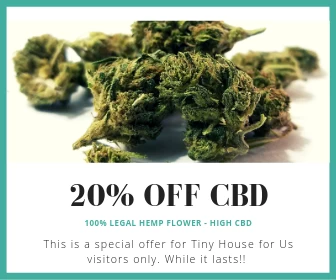 The exterior is an immediately appealing, clean looking combo of white-dyed cedar and blue metal, and as the bald eagle on the cab suggests, Minimaliste does ship to the USA.
The front half of the Sakura may not look as expansive as you'd expect in a 380-square-foot house, but that's a sizable sofa…
…which turns into a luxurious dining area…
…and the stairs lead to a semiprivate master bedroom which really is pretty roomy.
Here's the Sakura's other side. With half the kitchen concealed behind a panel (maybe necessary to support the loft extension?) and an appliance tower standing tall next to the sink it's an unusual look, but it does get a lot done, and the wide corridor means that this is one tiny house where it would be perfectly possible for two people to collaborate on cooking a meal.
The bathroom contains a comfortable tub and a composting toilet.
Currently set up as a reading nook, the small loft could also serve for storage or guest sleeping.
The hatch leads to this roof deck; the railings are removable for transport.