With an entire loft dedicated to shoes, makeup and clothes, a customized primping area and a full-length mirror, Genna Poletti's MINIstry of Magic Tiny House has to be the glammest THOW we've ever seen. And it's not just glam, it's a Brevard – so you know it's got a thoughtfully designed, ultra-livable interior and a reasonable price tag to go with all that style. In fact, Genna did a lot of the design herself, cherry picking elements from some of her favorite tiny houses from blogs and Instagram, with the Music City Tiny House serving as her primary inspiration. But she gladly accepted Brevard's input on putting it all together, as well as their suggestions for practical additions like kitchen shelving.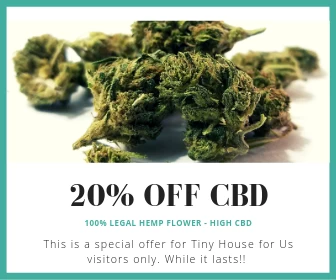 Aside from the loft dressing room, Genna's top requirements included a bathtub long enough to stretch her legs in, a couch long enough to accommodate overnight guests, a king-sized bed for her own sleeping comfort, a full-size oven with four burners on top, a big dining table, and a sliding barn door to the bathroom. And guess what? Brevard made fitting them all into a sub-200-square-foot THOW look easy. Plus an apartment-scale fridge inside the storage stairs and a fully automatic washer/dryer unit in the bathroom. All for $55,000. Brevard's always been good, and they just seem to keep getting better…
Genna filled out the MINIstry of Magic with accessories from Ikea and Target and decorated it with original artwork (in the relatively few places she could find windowless wall space) and trinkets from her travels to Europe, Russia and Southeast Asia. To see it all, be sure to watch the video tour she gives with her twin sister Alexa.
h/t Tiny House Talk