The last MitchCraft related item we brought you concerned new employee Ken Leigh, whose very attractive fifth wheel 32-footer had sort of followed him to work one day… Back then we wondered if Ken's hiring meant we'd be seeing more in that vein from MitchCraft, but now Mitch has come out with something exactly half that size. (Well, anyone who remembers the adobe THOW he unveiled at the 2016 Tiny House Jamboree will agree that the man has a certain flair for the unexpected.) It's a 16-foot model sold for $39,000 to a client named Jessica, and it's a testament to Mitch's design genius that the only time it actually looks that small is when you're admiring the charmingly birdhouse-like blue exterior.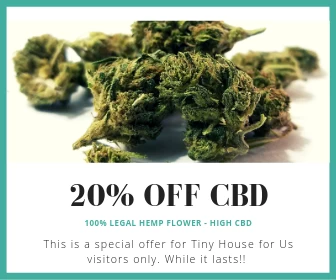 It has way more counter space (oak butcher block, no less) than a house this size has any business with, plus a three-burner propane range and a 4.5-cubic-foot refrigerator/freezer. The white seats on the sides slide back into the end cabinet when not in use; when it's time to eat, the wooden board in the middle slides out to become a dining table. The broad shelf at the end could serve as a reading nook, but it's also large enough to hold an extra bed.
Looking in the other direction, the kitchen ends in the pine bead board wall enclosing the bathroom. Above it is a 16-square-foot sleeping loft.
Inside the bathroom a Nature's Head composting toilet faces a 36-inch fiberglass shower stall supplied by either a 30-gallon tank or an RV-style hookup. A propane-powered PrecisionTemp tankless unit heats the water.
And that's about it. Except for the front door.
h/t Tiny House Talk