Modern Tiny Living says the Cocoa may be their most beautiful build yet. Well, their high-end Kokosing may give the Cocoa a run for its money in the beauty department – but if we're talking money, the 20-foot Cocoa wins the race by $20,000. And it is an awfully handsome house for $59,000. It's based on MTL's award-winning Mohican model but has a more modern look with stainless steel counter tops and eye-catching black hardware. With a 100-gallon fresh water tank, ample gray and black water tanks, and an on-demand propane water heater, the Cocoa is also a little more off-grid capable, although it has a flush toilet instead of a composting one. Other than that, it's gained a microwave oven, lost a bathroom sink, and gotten a slightly different dining table setup. This unit is going to be a Try It Tiny rental if you'd like to give it a try.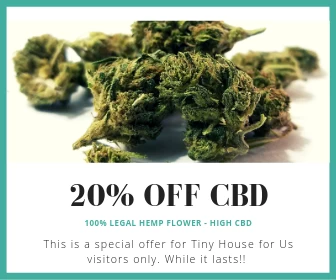 The Cocoa has smart siding, plenty of Ply Gem windows, three inches of spray foam insulation all around, and a 40-year warranty on the metal roof.
The interior walls are actually PVC, but there's still a lot of wood in here in the form of custom cabinetry.
The drop-down dining table at the end of the built-in sofa has just enough room for two.
Long stainless steel counters hold an undermount black graphite sink, a two-burner propane stove, and a 9.9-cubic-foot fridge.
Opposite are the barn door to the bathroom and a clothes closet with exterior shelves.
Even without a sink, the bathroom doesn't have a lot of free space; note how the toilet paper holder is positioned just outside the 32×32 shower.
The loft has ample space for a queen bed and a built-in custom dresser.
h/t Tiny House Talk
Photos © Modern Tiny Living