The Craftsman bungalow from Molecule Tiny Homes of Santa Cruz, CA, manages to pack two separate sleeping lofts onto one 8.5×20-foot trailer. As Molecule's premium offering, it costs a bit more than most of their houses – $100,000 versus $20-80 thousand – but it comes with a number of upgraded features that more than justify the added expense. No expense was spared in the usage of high quality materials and quality construction methods. The Craftsman includes a fold-out porch of old-growth redwood, shake roof and siding, cork floors and carpeted lofts, 22 double-paned windows and R-tech polystyrene foam board insulation, a flush toilet and hot water shower, a four-burner stainless steel oven, and even a garbage disposal.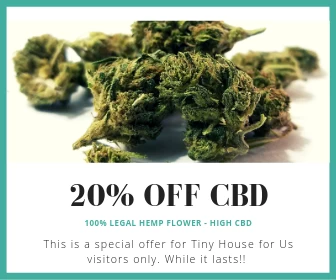 With its subtle curves, pop of color, and attention to detail, the exterior of the Craftsman sure is classy looking.
Inside they make the most of a small space, and use traditional colonial/craftsman design finishes.
Little details like the checkered tile strip and removable cutting board covering the sink help this design really stand out.
The lofts are each spacious – 8×10 and 8×8.
The bathroom forgoes a sink, opting to use the kitchen sink instead, which leaves a bit of extra space for a nicely tiled standing shower.
For more information visit Molecule Tiny Homes and check out their Facebook page for the latest updates.