One great aspect of the tiny house movement is the enthusiasm that so many owners show and the willingness to share their experiences with the world through personal blogs and online communities. Take for example Jess and Dan, a young couple living mortgage-free in the tiny house they built in Rhode Island. With so many folks tackling a new build for the first time it's nice to have some reference from others who have done the same. Ever since beginning their project in 2012 they carefully documented the subsequent days, weeks, and months of trials, triumphs, and other nuances involved with building and living in the 184sf "Pod" as they call it. All said and done they estimate it cost about $11,500 in materials.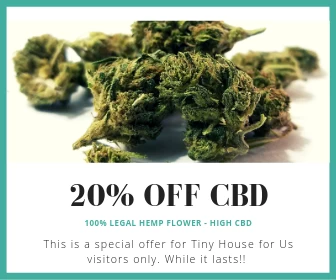 They started collecting all sorts of used materials for the build in the Fall of 2012, and began work on a used 16′ x 8'6″ trailer which needed a bit of prep…
and with some careful planning
the couple worked side by side to get much of the build completed.
And the finished product!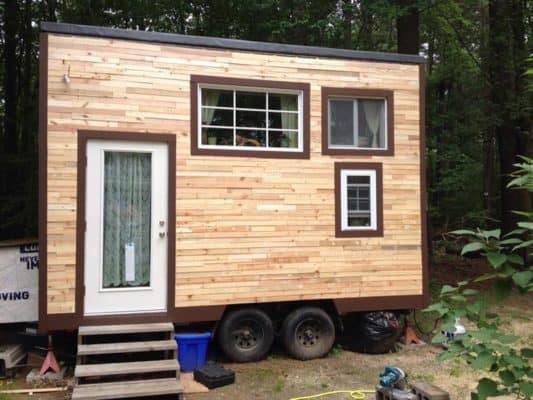 The couple moved in on September 30th in 2013. Time to celebrate!
Notice the hand-made "natural" ladder the built using a felled tree for rungs…
The tiny bathroom includes a composting toilet, and just enough space to get all cleaned up.
 Plenty of headroom in the loft, with storage shelves neatly arranged.
A bunny-cage serves double duty as a bench. 
A sleek wall-mounted heating panel keeps the couple and their bunnies warm during the cold New England winters. The shelf you see was made using reclaimed wood from a 1776 barn.
Bright colors throughout the home add some flair. The kitchen is well-equipped, with a propane stove and there's a sink hidden under that cutting board. They use a Coleman iceless cooler for a refrigerator.

They even have an exercise routine!

Living in Rhode Island means lots of snow, especially in the 2015 season. Jess works to clear the solar panels so they don't freeze to death!
Follow their journey: http://www.livinginatinyhouse.blogspot.com/ and be sure to check out their Facebook page as well http://www.facebook.com/anothertinyhousestory.