The Wave is a compact and contemporary THOW from Bay Area builder My Tiny Home Co. They've been in the residential remodeling business for over 15 years and are now getting into tiny houses in response to their area's housing shortage. They have another standard model, the larger Bay, and they say they'll also do custom builds from your design.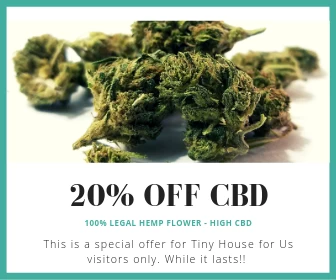 Stylistically, the Wave is so clean as to be almost minimalist; the L-shaped kitchen counter and the bathroom sink are about the only built-ins in evidence. But with attractive materials and fixtures and a couple of subtly different design choices – a V roof, asymmetric window placement – the look is definitely more modern than plain. It also creates quite a lot of open space for what's only a 225-square-foot house.
Owners will be able to fill that up as they choose (we're thinking a wardrobe or chest of drawers is going to be toward the top of the shopping list). And they should have some extra cash to do it with: Fully equipped and ready to move into, the Wave costs less than $50,000. That's quite reasonable by tiny house standards these days. By San Francisco standards? Not far short of a miracle!
The Wave has 12 windows of various shapes and sizes, all dual-glazed energy-efficient vinyl.
Pop a couch in here and you'll have a comfortable living room.
The L-shape separates the kitchen area without closing it off, and gives additional space in the cabinets and on the butcher block counter tops.
A 30-inch commercial sink fitted with a brushed nickel sprayer adds a touch of luxury to the kitchen.
The bathroom includes a sink of its own…
…and a flush or composting toilet at the buyer's option.
A rainfall shower head is standard.
The 55-square-foot loft will hold a queen bed.
h/t Tiny House Town