The founders of New Frontier Tiny Homes spent a combined 40 years building full-sized residences before creating their first tiny house. Hey, sometimes it takes a while to find your true calling. But it's hard to imagine a more successful debut than the Alpha, a beautiful and innovative build that's packed with features but still has enough room to host a dinner party for eight.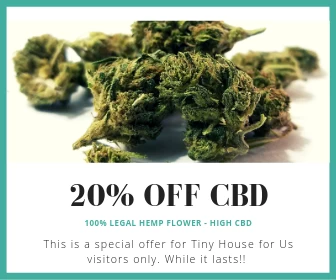 It starts with the giant glass doors set into the middle of the shou sugi ban and red western siding on each side of the house. One's a sliding type; the other's garage-style and mated to an aluminum-framed fold-out deck/awning combo. Opening them both opens the central living area to nature completely and allows for unequaled cross-ventilation in any kind of a breeze. Although it has an abundance of natural wood, some of it reclaimed, the interior is much more modern than rustic due to its clean lines, gleaming whites, granite counter tops and stainless steel appliances.
Those appliances include an 11-cubic-foot Whirlpool refrigerator, a five-burner induction stove with hood, a Separett Villa composting toilet, a Fisher Paykel DishDrawer dishwasher, an LG washer/dryer, and a full-size Jacuzzi bathtub/shower. Pretty amazing when a having dishwasher OR a washing machine OR a bathtub is generally considered a good selling point for a tiny house! Another afterthought for many tinys is the dining table, but the Alpha's is an eight-seater that folds out into the living area from under the raised floor of the kitchen.
Of course, that doesn't leave any room for a sofa, and since the sleeping loft has a really low ceiling over the king bed, your options for comfy lounging in the Alpha may be rather limited. But that's the only obvious drawback to this spectacular house, and if your style runs more to entertaining and the outdoors than cocooning you'll probably be quite happy to know it's for sale. New Frontier has requested that potential buyers contact them for a quote.
You can see lots more photos in New Frontier's gallery, and the Alpha was also featured on HGTV's Tiny House, Big Living recently.
h/t Tiny House Talk