This stylish tiny house on wheels comes to us courtesy of Leaf House Small Space Design & Build, and it marks their third and best version of this model. We love this company, and their version.2 model was an instant classic when they released it a few years back. Based out of Whitehorse, Yukon, Canada, this company puts a priority on making a tiny house that not only looks great, but functions in extreme cold temperature thanks to a host of innovative design elements. With version.3 however, they've completely outdone themselves and set a new bar when it comes to efficiency, build quality, and overall aesthetic. Let's take a look at what separates this micro house from the rest.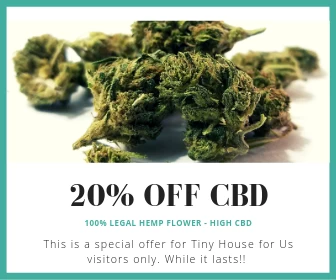 Innovating for cold climates
When you live in a place that sees sub-zero temps on a regular basis, you start to think a bit more about ways to preserve that precious heat inside your home. This tiny house makes use of several highly innovative features to ensure it remains nice and toasty inside, even when it's encased in a severe arctic blast.
The walls and roof use vacuum insulated panels (VIPS), the first time we've seen these used in a tiny house build, and they offer some of the best insulation. Floor and Roof are insulated to R68, while the walls are insulated to R38. If you're unfamiliar with r-values and insulation, just take our word, they will definitely keep the heat from escaping even in the coldest temps.
Another interesting feature they include in this build is a Heat Recovery Ventilator (HRV), the first of its kind suitable for tiny houses. Basically these little units help recover lost heat and redirect it back inside. They use a Lunos E2 model, which you can think of as a very fancy sort of bathroom exhaust vent/fan.
Windows look great in any house, but they're terribly inefficient in most cases. In Version.3 they chose to use quad pane windows, again something we haven't seen before. They have some of the highest R values for any window, period.
Finally they use electric radiant heaters, something we have seen in other tiny houses before, and a product we love. With a slim profile and high efficiency, they make for a great heating option, using 800 watts and drawing less than 15 amps.
Keeping the weight down
In addition to making this one of the most energy-efficient tiny houses, they wanted to bring the weight down, and made several building decisions to make that happen. For starters, it's just 16′ long and only 97 square feet. If you've ever towed a 20′ long, 10,000 pound tiny house, you know how hairy it can be. While a lot of people have a romantic notion of bringing their THOW all across the country, few have the cajones to pull it down a highway at 50 mph but this design makes things much easier in that regard.
They use metal mesh open joint siding which saves considerable weight compared to conventional siding. The exterior is framed using metal cross bracing, foam sheathing, and metal strapping to maintain strength and lower weight. Inside you'll find lightweight concrete countertops, which sounds like an oxymoron but the reality is they weigh only about 35 lbs.

Aside from the building innovations, the house itself displays an impressive interior space that's more than livable. The smaller footprint means they needed to come up with some unique solutions to save space, so they built a custom murphy bed which removes the need for stairs or a ladder up to a loft. One end of the home has a mirrored wall which makes the entire space feel more open. There's a compact fridge/freezer combo, a small kitchen area, and a full hot/cold water system with a 30 gallon water tank powered by a tankless propane water heater. Additional details include the use of reclaimed wood and other metal materials, LED lighting, and a composting toilet, making it altogether very functional despite the tiny footprint.
All things considered, the folks at Leaf House have raised the bar to new heights. We can't wait to see what they bring us in the future, and hope to see more tiny home owners building their designs. To learn more about Leaf Homes and to purchase plans to build your own, visit their website.