The "big and tall" philosophy doesn't seem like a natural pairing for tiny homes, but here you'll see the "Nomad's Nest" by Wind River Tiny Homes, a build described on their website as designed with a 6'6″ man in mind. By the looks of it, it seems they've outdone themselves with this design. The faux-log-cabin exterior looks great, but what's really amazing is how much they've managed to fit inside without sacrificing style or comfort.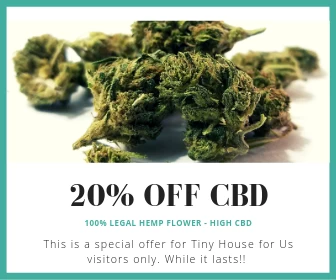 To that end they squeezed a full-sized refrigerator and oven, spacious kitchen counters, a big sofa, a washing machine and a bathtub, a queen bed and a woodstove inside. The photos show superb attention to detail as well: just check out the angular kitchen sink and perhaps our favorite aspect, the wood-and-rock shower stall whose floor opens to reveal the bathtub.
It's easy to see why Wind River remains one of our favorite builders, and we're anxious to see what else they roll out in the future. Until then if you want to hire them for a custom build, or want to check out their other model, a super stylish bungalow, and be sure to visit their website at http://www.windrivertinyhomes.com/ to learn more.