Being able to customize the look and feel to match your personality has to be one of the best aspects about building your own tiny home. Vince and Sam live an active lifestyle, and when they decided to build theirs, it had to fit their style. Lucky for them, the folks at Tiny House Nation recruited them to help with their dream home. From the weathered outer appearance to clean, functional, and fun interior, this build definitely incorporates some very cool elements. They even managed to include a unique climbing wall with rings suspended from the ceiling for a totally unique alternative to the normal ladder.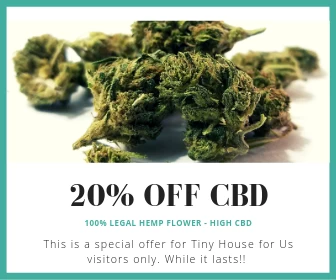 The exterior shows off a unique weathered look, achieved using a special kind of exterior coating that gives it an aged look.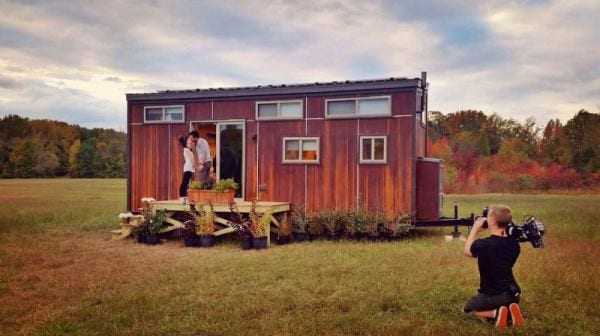 Who says you can't fit a personal gym in a tiny house? Rather than a boring ladder, you can access the second loft via this small scale rock climbing wall and rings suspended from the ceiling.
Below you can see the recessed sitting area, with a cushion built into the platform. Also, notice the stealthy outline of the desk to the left. While not shown here, it emerges from the floor, transforming the sitting area into a workspace.
A spacious galley kitchen offers plenty of room to cook, with an extra-deep sink and lots of storage space.
A Dickinson marine heater keeps the place warm, and they managed to stash a 2-in-1 washer/dryer combo in the corner of the kitchen space.
The main sleeping loft offers a bit of extra head room thanks to the sloped shed roof and recessed LED lights brighten things up.
A custom built sectional offers extra space to relax downstairs, with storage underneath.
The stairs include extra storage, a common design feature we're seeing more of. What's new though is the added dog crate, a bonus tiny space for their pup!
The bathroom includes a unique shower, with a floor that drains to a graywater storage.
Altogether this build includes some of the more interesting design elements we've seen in a tiny house. Thanks to the help from Wishbone Tiny Homes and FYI Network, this couple owns a home to be proud of.
Watch this episode on FYI's website