Michelle had worked two jobs to raise four children as a single mother. With the children grown, she finally had time to focus on the animal rescue work she was interested in – but nonprofit salaries being what they are, she also knew she would also need to minimize her expenses. She'd seen the tiny house TV shows, and as she'd been living on a boat for the last year she was sure she could adapt to the size. Did she ever! Her Pawsitively Tiny House has room for Michelle, her Boxer, her six cats, and her mother's antique china collection – all in 16 feet. She built it over a year and a half in her ex-husband's driveway, starting with an old camper and ending up with a quaintly cozy tiny home that now occupies part of a 300-acre Ohio farm.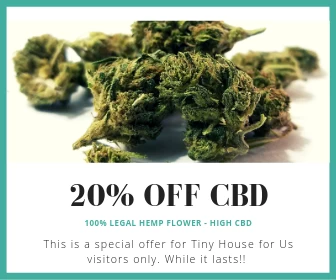 Michelle designed the L shaped built-in sofa to seat four. Usually it seats two – her and the Boxer.
The china, and a cozy fireplace, occupy the wall across from the couch.
Michelle has packed every inch of her house with personality.
Hanging pots and pans save space and give the kitchen even more character.
The bathroom is right next to it. Michelle is hooked up to water and electricity from the farm, and as septic is also available she's planning to install a flush toilet to replace the composting unit she has now.
She'll also be painting the ceiling in the loft, but says that the Pawsitively is about 95% finished as is. Once she gets done with the last details, Michelle will build a chicken coop and goat house – and also install a shed that will serve as her very own animal rescue facility.
h/t Tiny House Talk