Vinyl's pretty trendy these days – for music, anyway – but it's not exactly the most popular choice for tiny house siding. Concerns have been raised about its environmental impact, and most people prefer more natural-looking exteriors, like cedar. The American Chemistry Council, though, has an understandable soft spot for vinyl siding (and quite a few other plastic homebuilding components). To demonstrate the ecofriendly aspects of plastic, they've been touring a plastic-intensive tiny house as part of their Plastics Make It Possible PR campaign. It was built in Boulder last year by Zach Giffin of Tiny House Nation and will be on display at the Carnegie Science Center in Pittsburgh for the next couple of months.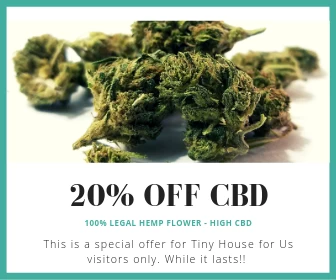 The 170-square-foot THOW has a wooden frame, but much of the rest of it is plastic. Under the vinyl, the house is sheathed in polyisocyanurate foam board and insulated with polyurethane and polystyrene foam, which together with plastic sealants/caulking and a polyurethane-based fiberglass front door with foam insulator core give it an admirable energy efficiency rating. The floor and windows are vinyl too, the deck's recycled plastic composite, and the skylight's polycarbonate. And yes, that is a skylight you see on the roof, not a solar panel – but the house is still able to suck up solar power. How? The shingles (plastic, of course) aren't just shingles – they're Dow's recently discontinued Powerhouse shingles with built-in energy producing solar cells.
h/t Curbed
Images © American Chemistry Council, Inc.