I remember as a kid looking up to certain pro snowboarders, originators of the sport who pushed the limits of technical riding and they always motivated to improve my own riding. Mike Basich is one of the more prolific figures in the sport and I was surprised to learn that he built a little 228 square-foot homestead way up in the Sierra mountains, about ten miles outside Truckee. In the winter, this is where I head to get my powder cravings and when I heard Mike has his own tiny homestead that he dubbed "Area 241" I was intrigued. After all, it's every snowboarders dream to get fresh tracks when it dumps, and it seems like he set up the ideal spot to make sure he never misses a chance to experience what he loves most in life.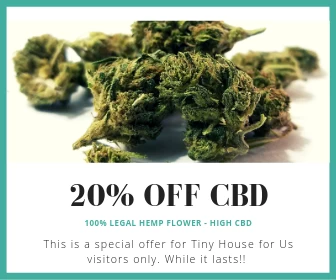 This birds-eye view shows the tiny cabin in all its glory. The area beneath the main living space contains a wood-fired stove that heats that hot tub..
Here is Mike pictured with his super cute dog, Summit, inside the tiny house he built. It features stone walls and super thick double-pane glass which helps keep them safe and warm during those epic Tahoe storms.
Not only does he have the tiny house in Truckee, but he built this towable home that allows him to seek fresh tracks all over the country. He he is grilling up a hot dog and sipping on a PBR, no doubt dreaming about the next line he'll take down the mountain.
Speaking of lines, check this out – yea, he's getting "hella gnar", bomb-dropping out of the helicopter into an untracked mountain face.
The tiny cabin includes a sleeping loft with an arched roof. It's a perfect size for him and his girlfriend, who spends a lot of time up there with him.
Of course after a long day of riding, you need a way to soothe those aching muscles, and this hot tub does the trick. It's powered by a wood-fired stove that heats the water.
Turns out he bought a chunk of land up there for around $200k, and built a small house made of stone and glass for around $20k. He did everything himself, installing a hot tub, and building a ski lift that provides access to 600 feet of vertical terrain. Certainly not an easy feat considering the rugged terrain its built upon. He also has his own snowcat – a machine that basically plows through snow on ski resorts for those unfamiliar. He uses a snowmobile as his other main vehicle, which allows access to the nearest road, roughly three miles away. The burl factor is pretty high living up here. In the winter it's common to get 3-8 feet of snow during a single storm, and this is certainly not the most inviting terrain to call home. But for powder hounds like Mike it's a total dream come true.
Here you can see a better shot of the tiny house on wheels he built. Looks to be made from corrugated roofing and a lot of other reclaimed materials, though we couldn't find a total price or any pictures of the interior to share.
Possibly the coolest part about his cabin is the ski lift he built – an intense project for sure, but one that rewards him and his pals with access to 600′ of vertical and all the fresh tracks he could want. Notice the boulders that act as counterweights – serious ingenuity.
Conditions at the top of Donner can be burly to say the least. Here you can see how much snow piles up outside the cabin, and at times he's had to completely dig the shelter out from under 10'+ of the white fluffy stuff.
He gets power from solar panels, heat from wood, and collects water from melted snow, storing it in containers for the winter – so he's definitely living off grid up there. With his dog "Summit", some bros visiting, and his girl by his side he's got everything he needs to be happy. He also recently built a tiny towable home that he and his girlfriend can take wherever they want, hitting up resorts from Montana to Alaska with his snowmobiles in tow. As one of GoPro's sponsored athletes he makes extensive use of drones that follow him down the mountain as he rides and you can check out some of the footage below. I'm totally jealous.
Check out his Facebook page, and his website for more information about Mike Basich and his cabin life.