Rachel Jones was home on the last Christmas vacation of a 27-month stretch in the Peace Corps when she started to think seriously about where she would live when she returned to Kentucky for good. She'd been a casual follower of the tiny house movement for a while, but home ownership of any size or shape had seemed pretty far in the future. Suddenly, it didn't. She spent a little time looking at small-not-tiny houses and apartments in the area and quickly decided she couldn't afford anything good enough to call home. And as her mother had just introduced her to HGTV's Tiny House Hunters, Rachel began to wonder whether a THOW might be her best bet after all. She could use reclaimed materials to keep the cost down, and she could take it with her if she needed to move for work…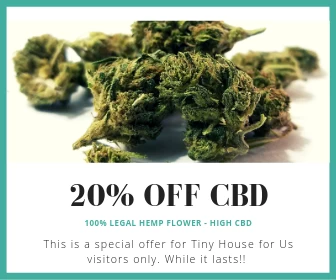 Well, you can guess the rest; upon returning to her Peace Corps posting, Rachel worked up a design and found a great deal on a Craigslist trailer, which her father bought for her while she was still overseas. When she came back, they built her house together. Here it is.
The locally milled cedar siding was sourced from the Jones's own property.
The very cushiony seats of the dining table fold down into a queen size mattress.
Tableware on shelves and hangers gives a rustic touch to the kitchen; more storage is under the counter.
Positioning the kitchen sink right next to the shower must have simplified the plumbing.
The toilet, though, is a composting unit.
Instead of a bathroom sink, there's a small closet for clothes and toiletries.